Pictures
We had another amazing meeting with young scientists! This time our workshops were organzied during Science Festival and took place at the Faculty of Chemistry, University of Warsaw, where kids could build the model of the atom, make foam without water, make home-made fire extinguisher, awake the vulcano and do make many other physico-chemical activities :)

Second team in action!
Age is not the limit to make your dreams real! This time our classes visited seniors from Dancing - the organization of active seniors. That was very fruitfull evening!
Another tandem meeting in Sadyba Cultura Center! During our last workshop we were making experiments in pairs senior-junior and participants could learn chemistry and physics through exciting hands-on experiments
We are pleased to inform that Manufacture of Scientists achieved distinction in the Golden Sunflowers 2017 competition organized by the portal czasdzieci.pl. Final gala took place in the Theatre "Rampa" hall in Warsaw. Thank you all for your support and for staying with us!
Back to school! We started new academic year with kids from elementary and middle schools by organization ofl workshop in Warsaw - the Ochota Campus at the University of Warsaw. Thanks to the invitation of Center for Transfer and Technology we had a chance to spend few ours with young scientists :)
Holidays!

This is the best occasion to realize the summer project. This year, once again, students from Adelphi University at New York came to the Laboratory of Electrochemistry at University of Warsaw. Each student does reseach in different field and we are very happy that we will co-supervise one of them. This summer belongs to the semiconducting materials for photovoltaics!
Thanks to the Institute of Animal Reproduction and Food Research, Polish Academy of Science we took part in the Science Picnic "Science is Art" in the heart of Olsztyn, a beautiful town in the Mazuria Region of Poland with crystal clear lakes and pure forests. The Science Picnic took place in the Old Town on the 10th June, where together with dr. Magdalena Warczak, post-doc from Department of Science and Technology at Linköping University in Sweden we presented to visitors the essence of chemistry - colourful and interesting experiments. Ware glad to be a part of this great and amazing project!

Thank you all for visiting us in our green tent!

You can find more information in media: http:// olsztyn.wyborcza.pl here or at http://olsztyn.com.pl here
On the 26-27th May we visited the south of Poland - Lower Silesia, where the Festival of Science and and Technology was organized. That was great experience for us! How did we get there? Thanks to the invitation from Cultural Center in Żory. Together with kids, teenagers, kids with parents and kids with seniors we explored science through simple hands-on experiments. This is how the first day looked like :)

Fun and science - more and more experiment during the second day! We are happy that veterinary workshops with Uprzejmy Łoś were also implemented in the busy program of the Festival. It was a pleasure to meet you there! :D
Weekend is the best time to relax during funny experiments in friendly environment., so in spite of the post-doc duties in Brussels, Smarty - the Snaily-Snail and his team visited Poland. After getting the invitation from the Kintergarten in Piastów we booked the flight to Poland and here we are!

Pictures from the workshop says everything. It was worth to visit young and future scientists. That was our pleasure to meet them all :) We will have unique memories!
Snaily Snail in Secondary School in Piastów :)

Physics and chemistry are not boring. Fundamental laws of nature can be explained through very simple experiments. The same experiments are interesting for kids as well as for teens, while different level of chemistry and physics is explained to each group. We did not predict only one thing... after 2 hours they wanted more and more! We are very happy to meet that brilliant group and hope to meet them again in the future in halls of the academia! Thank you for invitation, it was amazing to visit Piastów during short stay in Poland.
Smarty-Snaily-Snail on air!

We had our first interview in the Polish Radio. Thanks to the redactor Krzysztof Michalski, who created the audition "Evening of Explorers" we could tell what we do, how we do and why we love science so much. If you had no chance to hear the audition, you can listen that (in Polish) HERE.
During January, February and March we flew from Belgium to Poland for many times. More detailes at our facebook profile: Manufacture of Scientists
Dear Fans of Smarty-Snaily-Snail and his programme "Manufacture of Scientists", we are glad to inform you that Manufacture of Scientists achieved the Distinction in the competition "Science Popularizer 2016" organized by Polish Press Agency and Ministry for Science and Education.This distintion gave us a quant of energy, motivating for work.

We would like to thank you all! Without you, your participation in countless workshops achieving of the statuette in this prestigious competition would not be possible!

Thank you for all e-mails, questions about the project, invitations for joint work, nice words and vibes! Simultaneously, we would like to congratulate to all Science Popularizers who did a great job! We hope that you will never stop to spread science and share your positive attitude.
Here it is - the Gala of Science Popularizer 2016 :)
Night of the Scientists at Faculty of Chemistry, University of Warsaw. We are very happy when kids are visiting us at academia. It is the best ocassion to show them how scientific work looks like from the inside. Today we were doing topography analysis of semiconductors by Atomic Force Microscope and kids could assist in the cantilever change and modify various parameters during scanning. It was a very fruitful evening!

Action!

We have a dilemma, who asks more courious and difficult questions - grandmothers, grnadfathers or parents. In a friendly atmosphere Smarty - the Snaily-Snail and his team were doing experiments with kids and adults at Montessori Kindergarten in Wołomin. We are sure that after that class kids will ask many times questions about nature "Why?".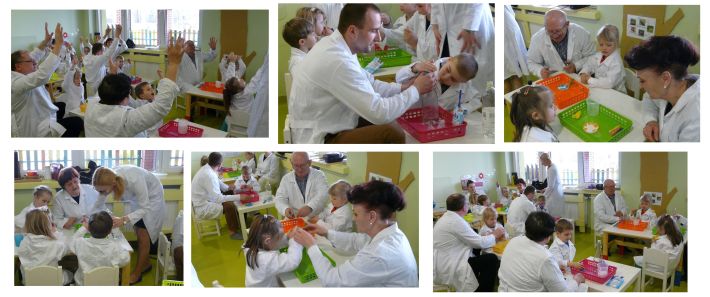 From time to time our experiments are organized in the Faculty of Chemistry building at University of Warsaw, so young scientists do not only make experiments but after class they can go sightseeing in our profesionally equipped laboratories. Today we measured, titrated, created colourful foams and...at the end decomposed hydrogen peroxide through our beloved "locomotive" experiment.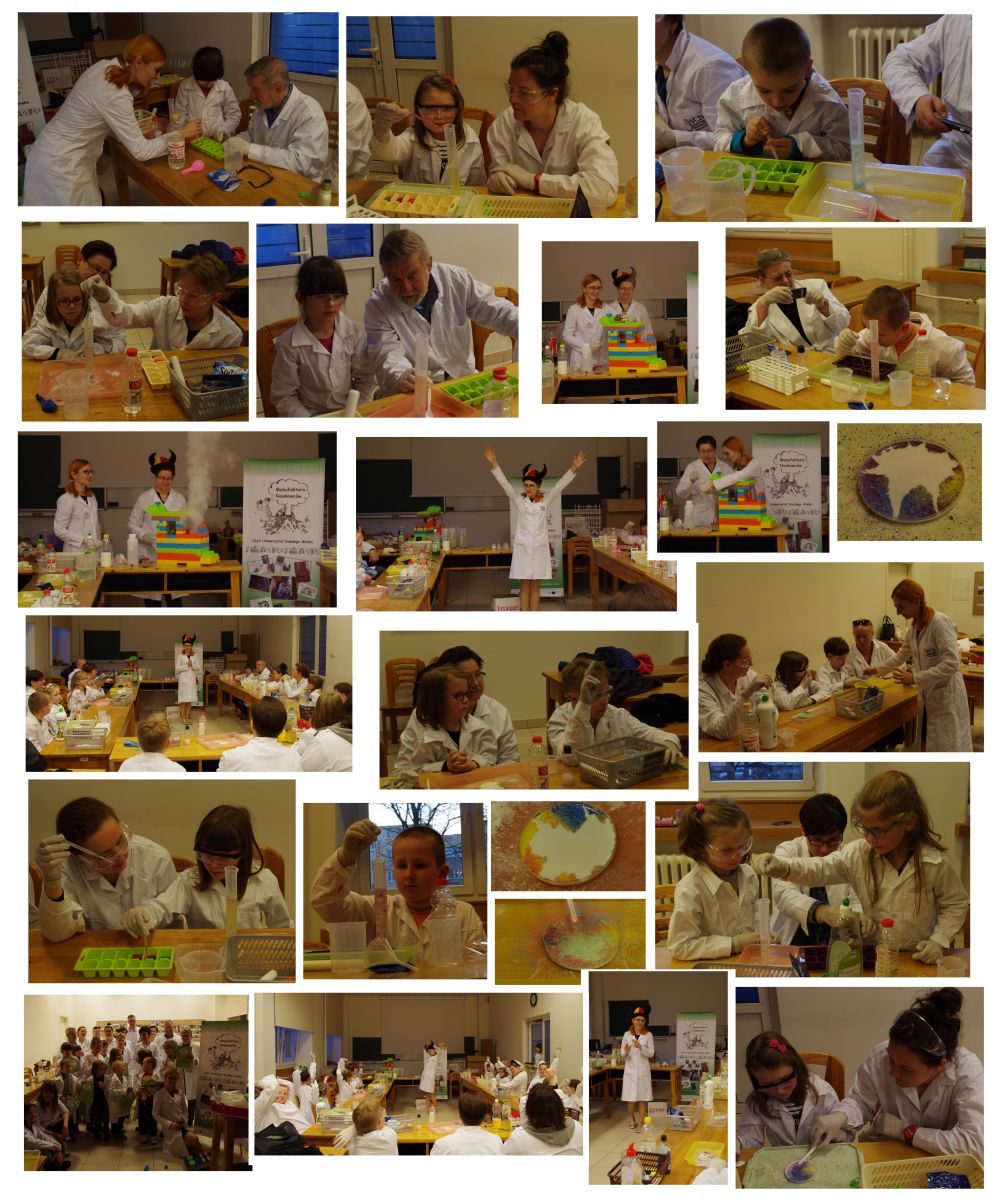 Snaily-Snail is ready for the next meeting with young scientists and their grandparents. Soon, an English version of the badge will be made available :)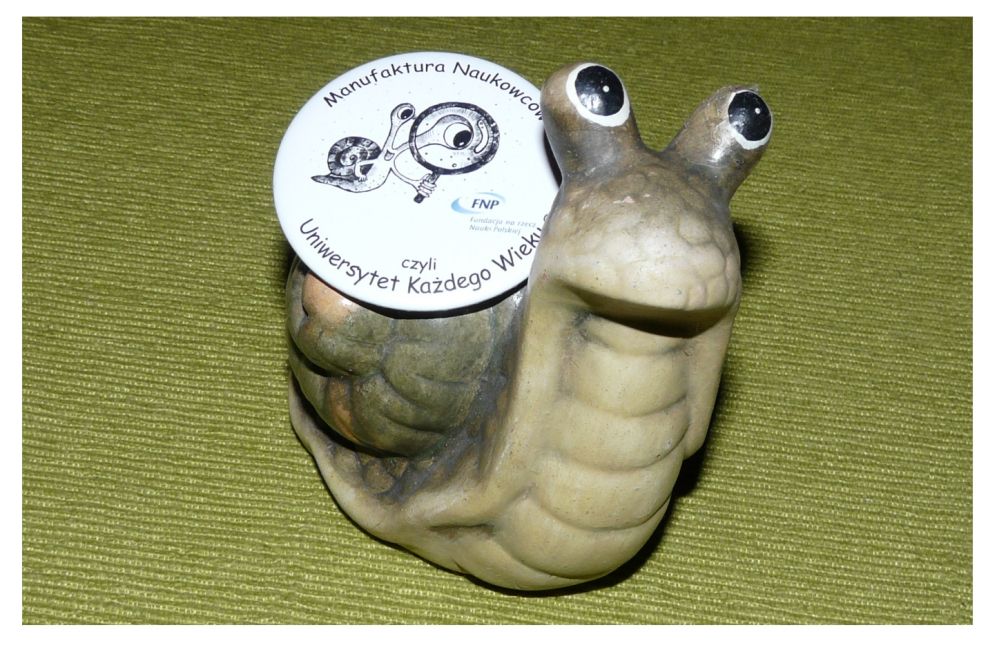 Locomotive for tomorrow's experiments under construction :)

Snaily-Snail is never bored. He is busy even during the evening, because evening is the best time for the preparation of next surprised and exciting experiments. No matter how big is the chaos in the room, it is always funny to prepare next classes for kids and seniors :)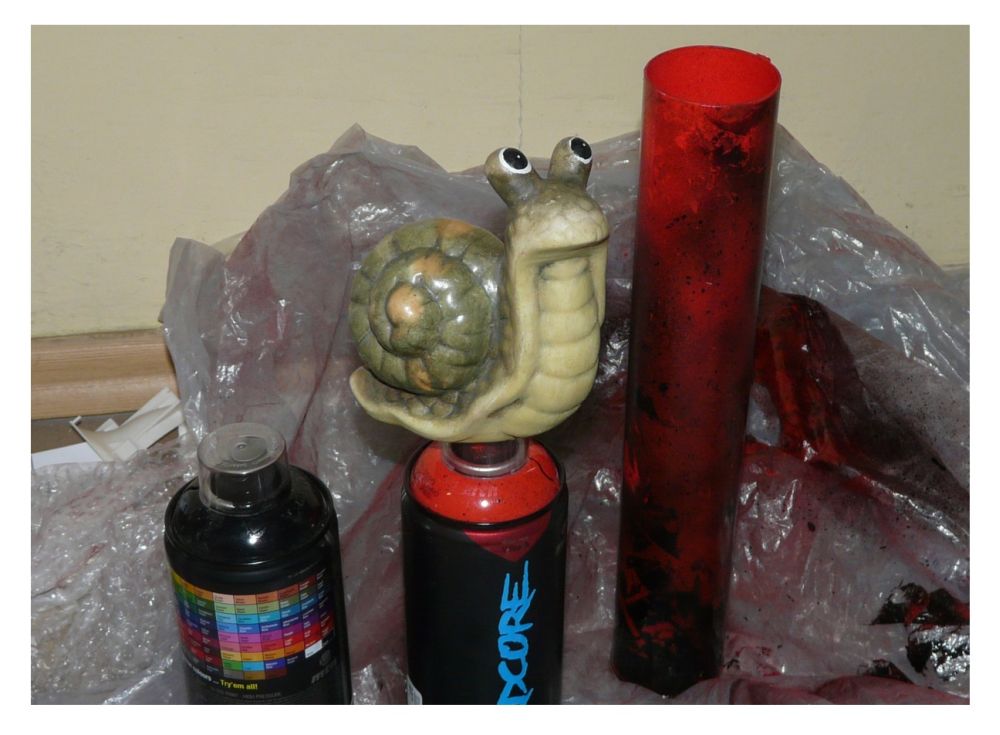 Snaily-Snail is preparing souvenirs for kids and grandparents. The workshop is coming!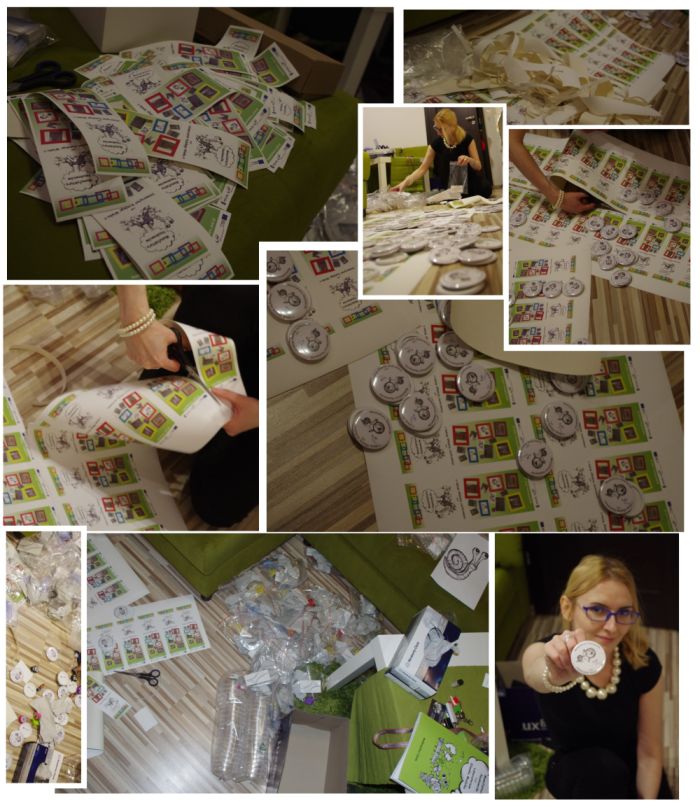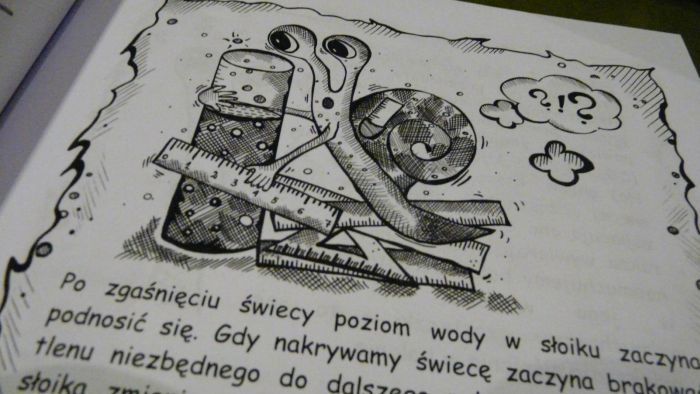 Here we are! The Main Library at Piaseczno in action! Our classes started with a scientific story and quiz. At the end we took many pictures in crazy hats. Why a viking hat? Becasuse somentimes chemists are like vikings on the unknown sea of science, and they fight with the physico-chemical laws to force some substances to react with each other, to achieve proper results :)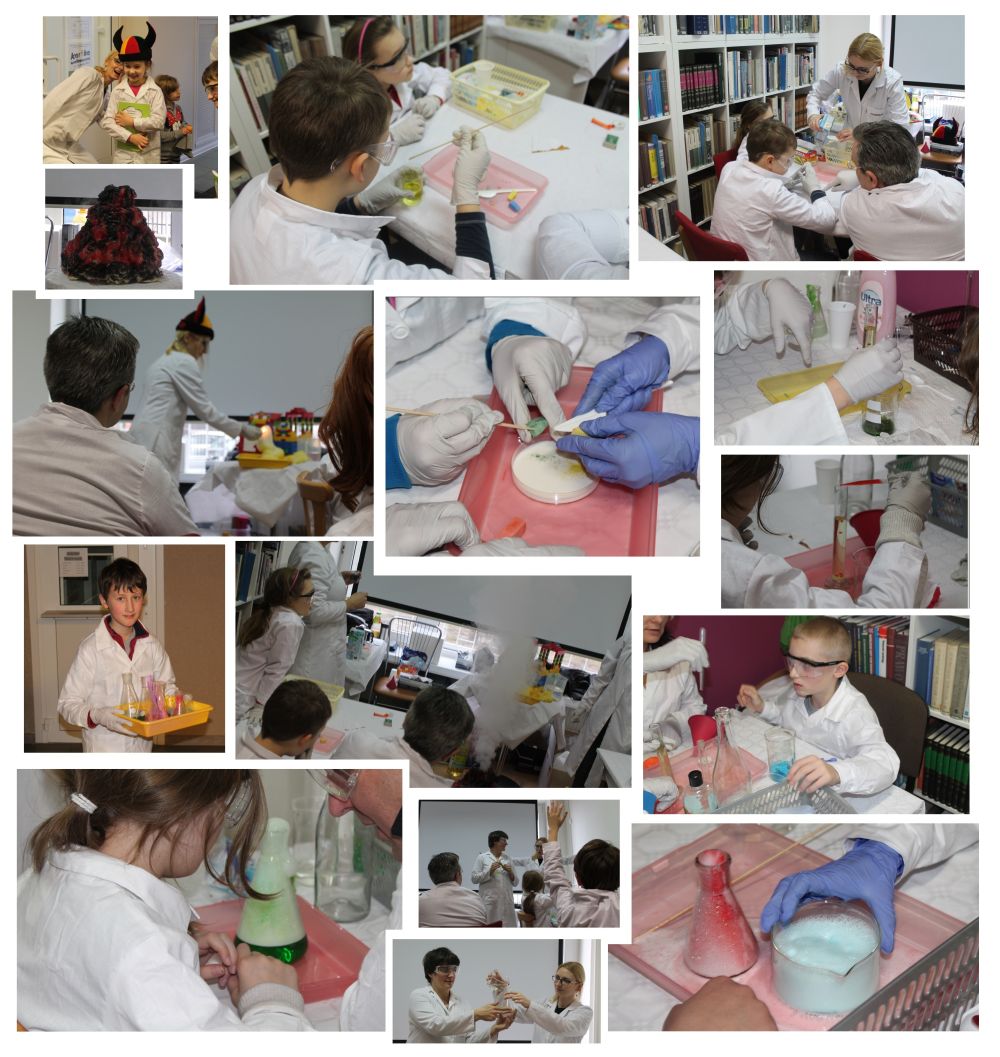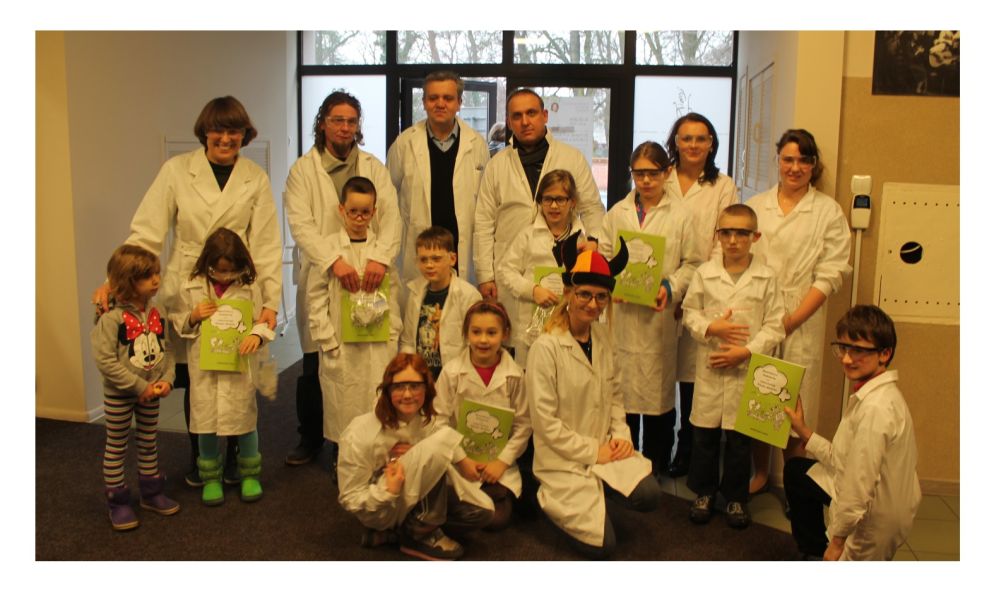 Today we have many souvenirs for everyone. Kids will get not only a book, but also a set for making safe experiments at home. What is in this set? Pipets, Petri dishes, probe tubes and many other scientific tools of the trade for young exploreers :)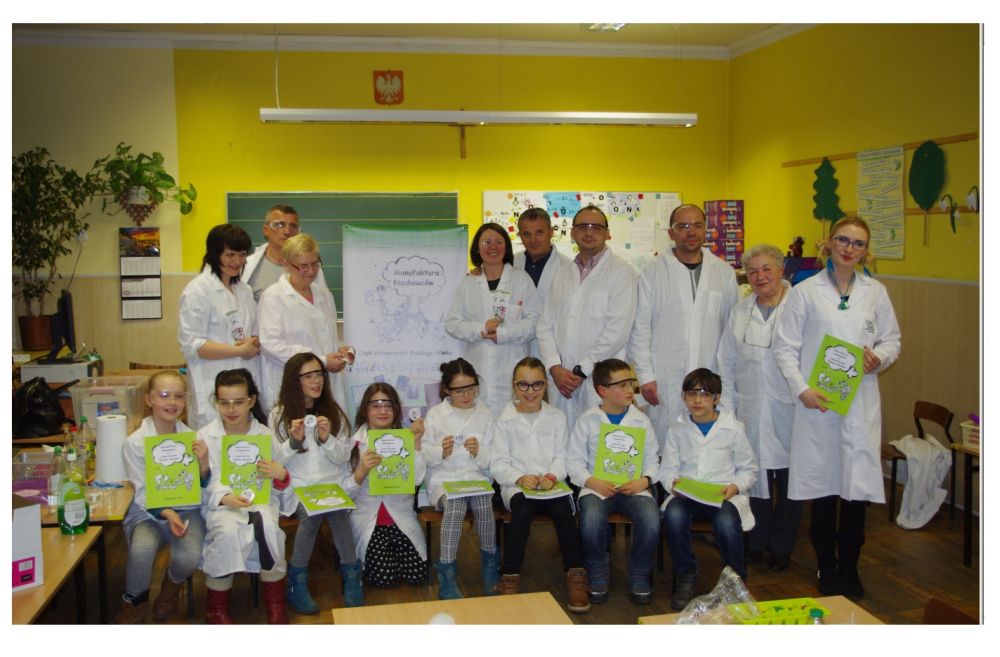 Today we visited a town located in the south of Poland - Zawiercie. Mixing, heating, extraction, foam, gas evolution, density, colloid, viscosity and happiness. In such words we can describe what we did today :)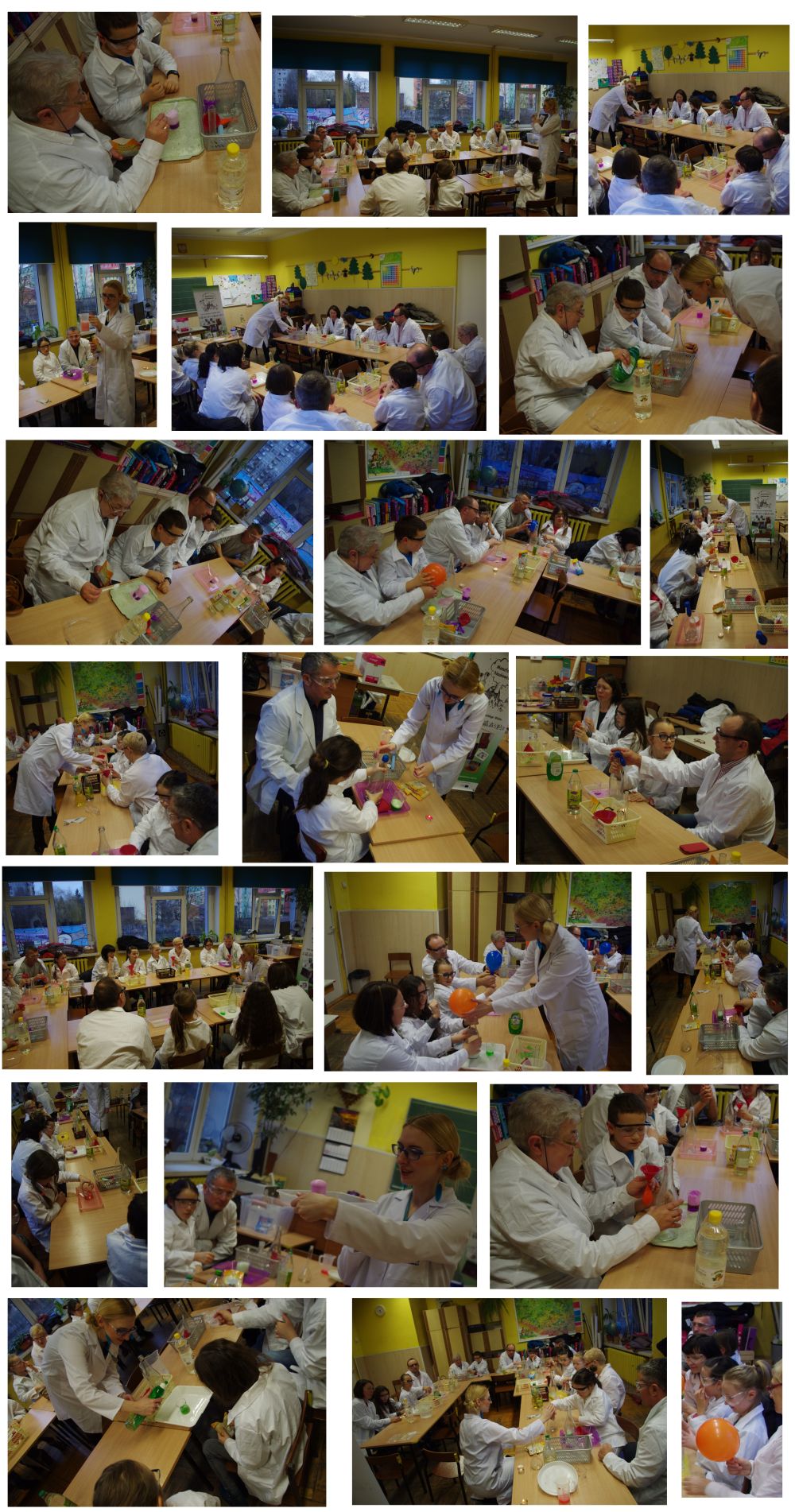 ...and after break :) Can you imagine that we spent together almost 3 hours?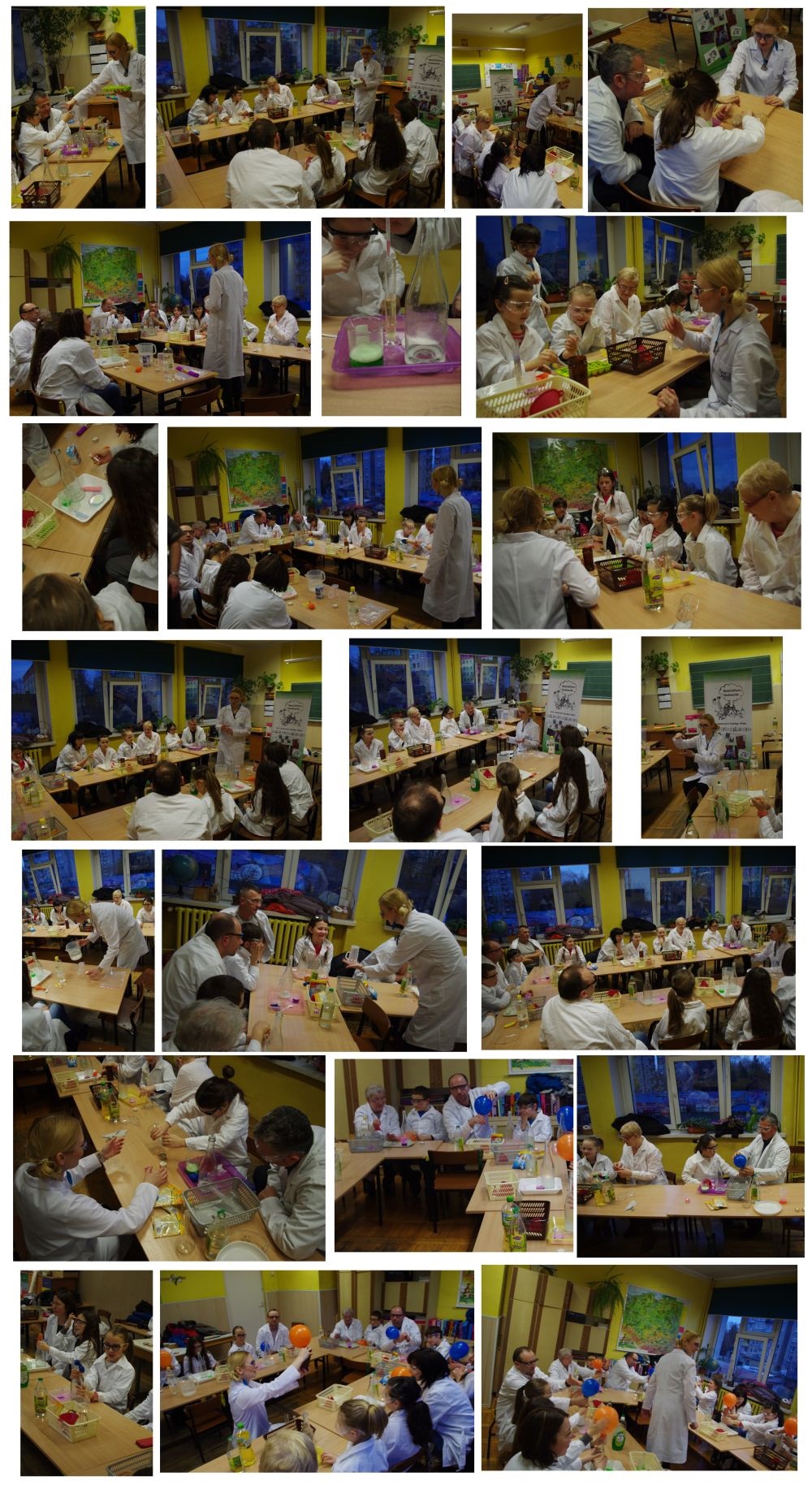 Today we finished very late. This is what night owls love :) We are one of them.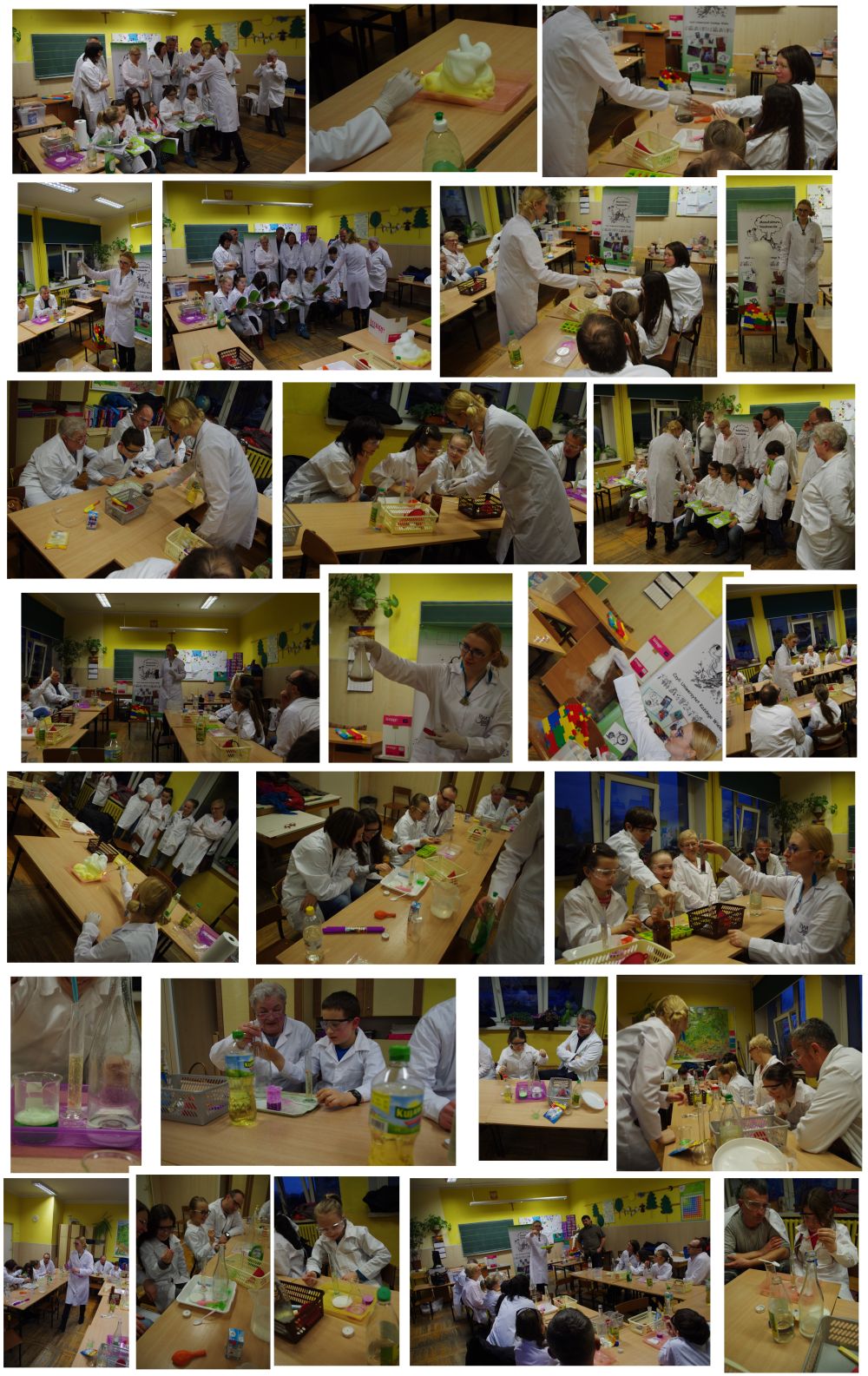 Another day, another class in the Elementary School in Zawiercie. The next group, next adventure and curious questions vet. We have a feeling that we hadn't been asked with the same set of questions. Each group is different, works by it's own tempo and has a different temperamet. This is why we love them so much! For us it's an amazing adventure too!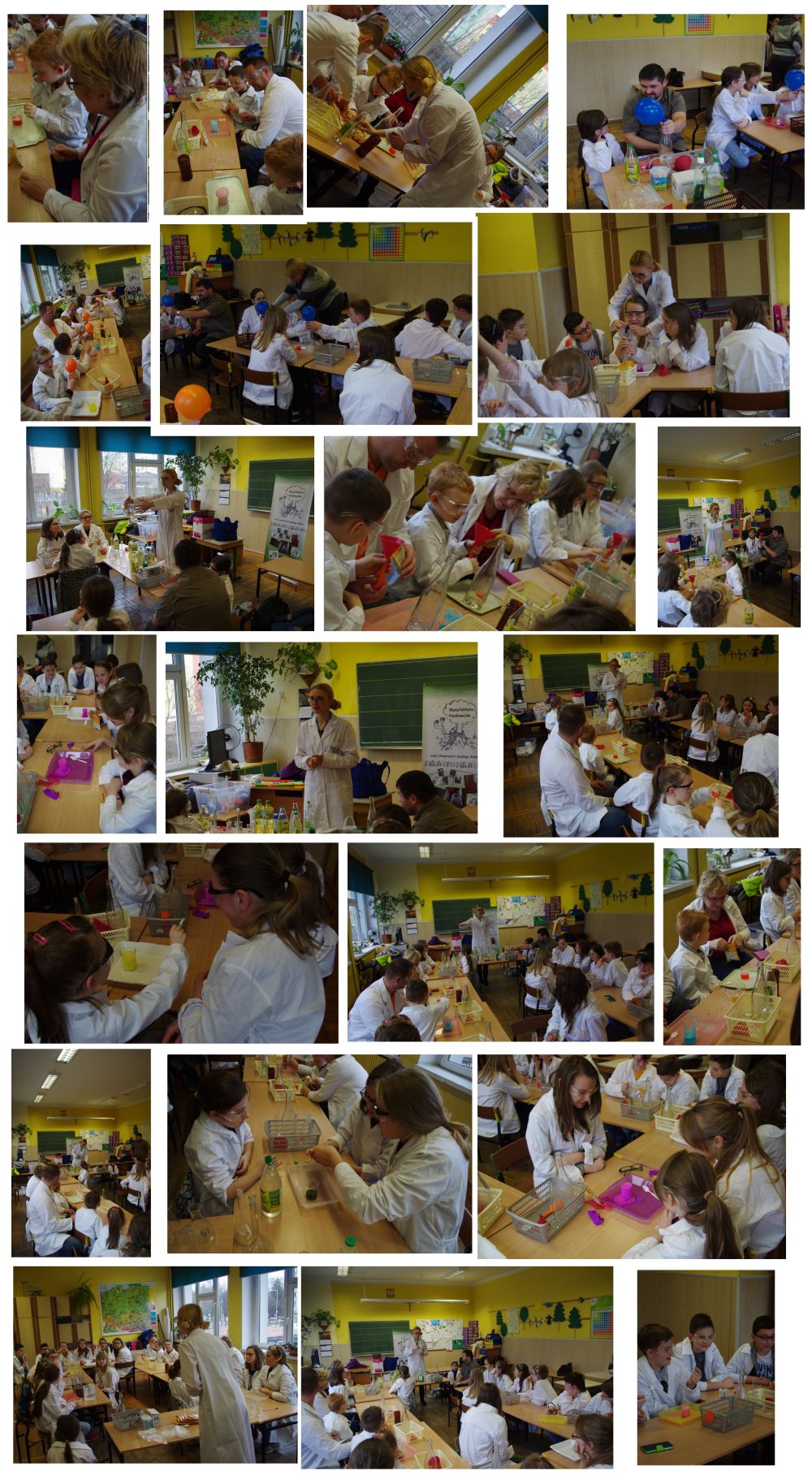 After 2 hours they had not enough! Let's start third hour of joint experiments.
Classically, we finished the class with discussion and "family picture"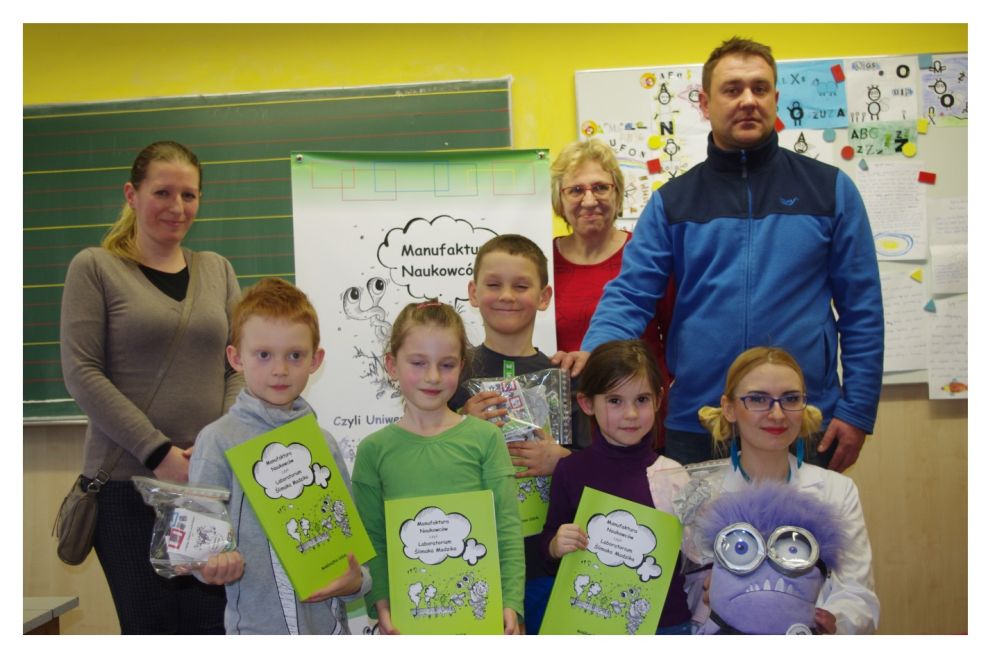 The first group of kids in action! Today we visited Elementary School in Bzów, located among fresh and green forests. All area smells by the trees, so we are chilled and happy :)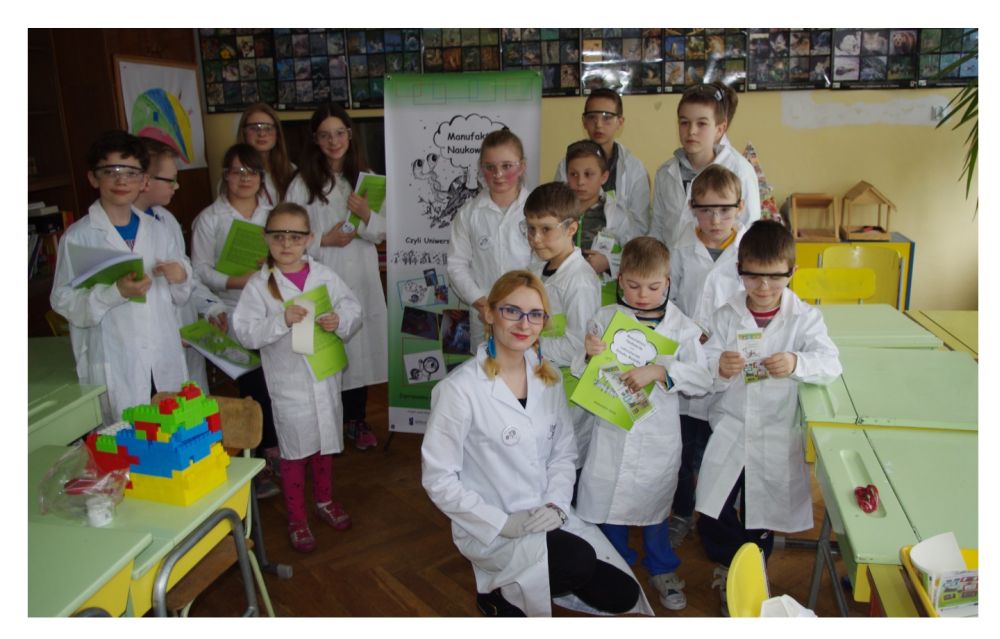 Some kids said that from today's class the science is no more scary. That is great, isn't it? Such words are like a music for our ears :)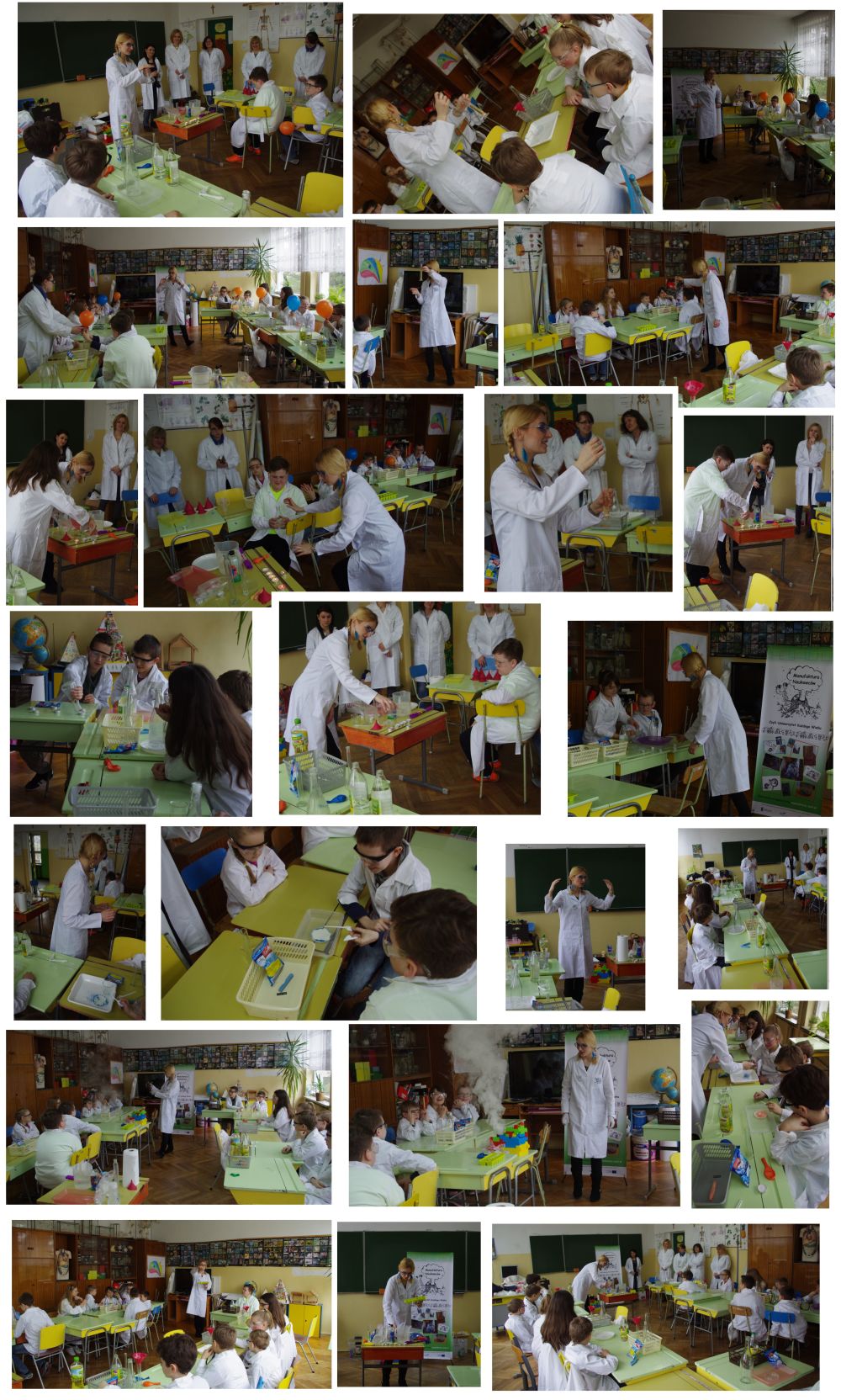 Second group in Elementary School in Bzów "Elementarz" Foundation in Jurrasic region of Poland.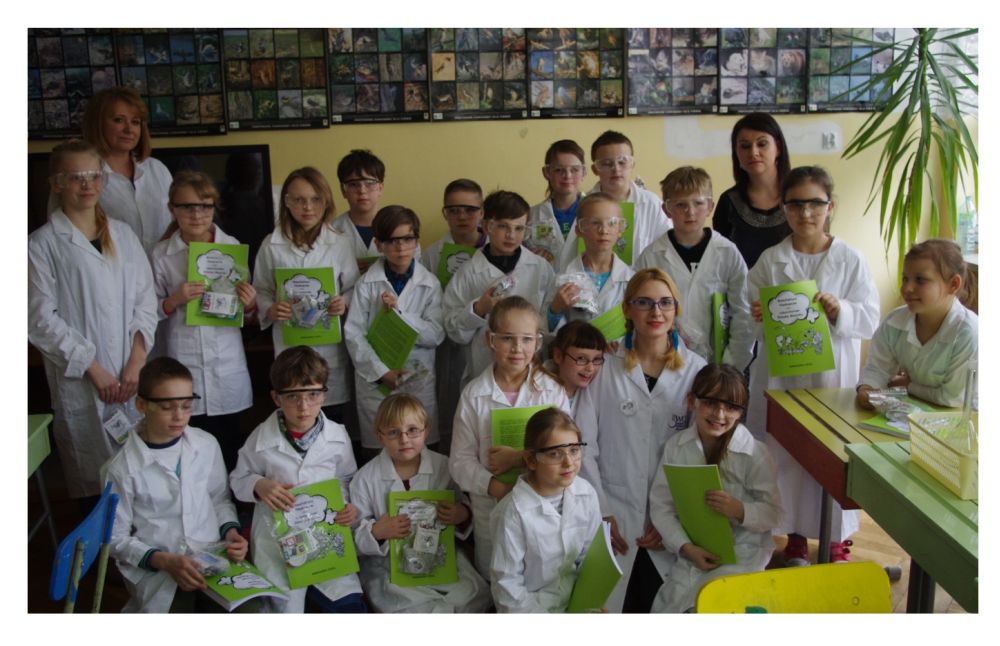 Another "family picture"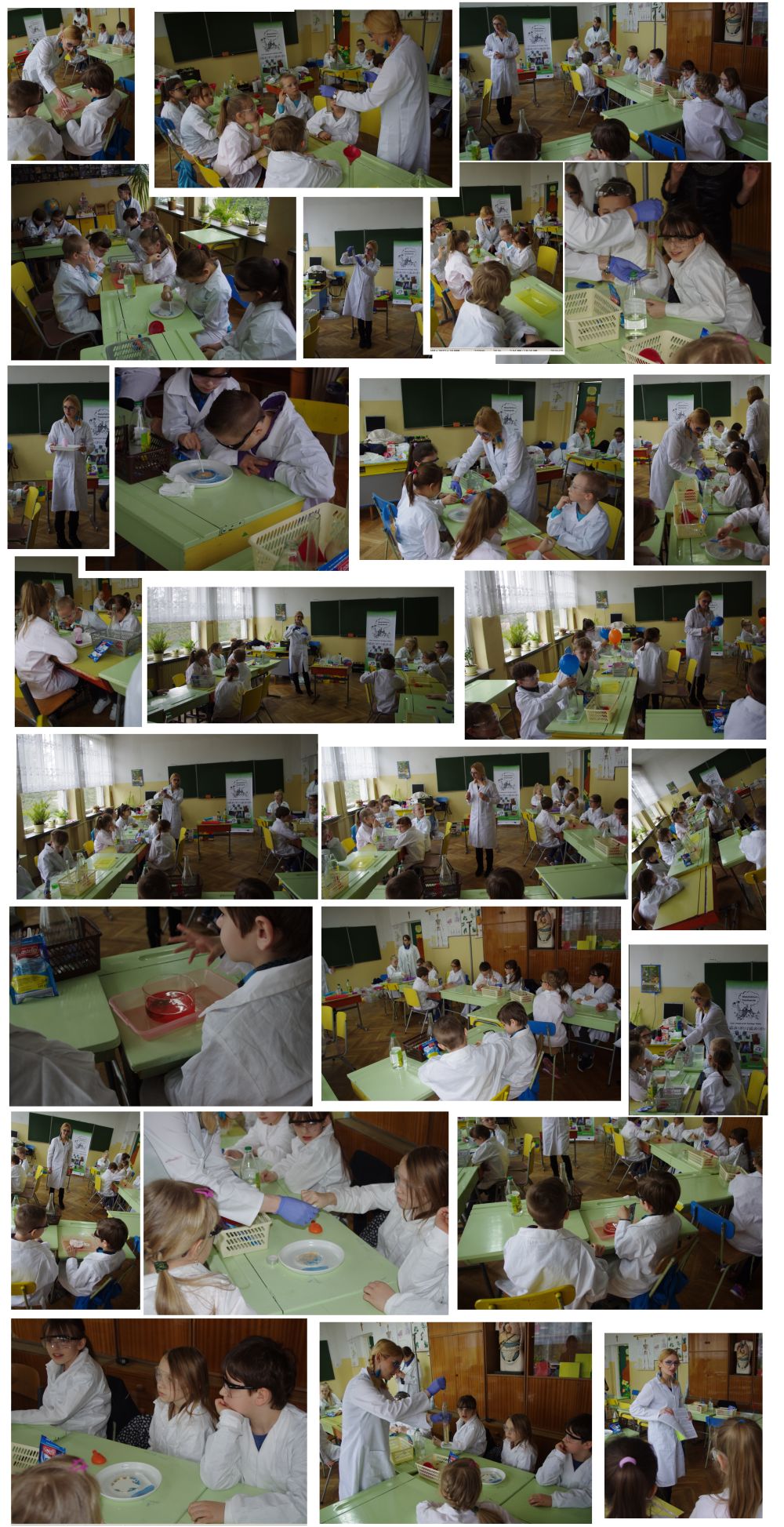 Sun or rain, it does not matter. We are always ready for the adventure. Today in spite of the low temperature and cloudy sky with T-storms we organized workshops for 2 groups :) Mission accomplished!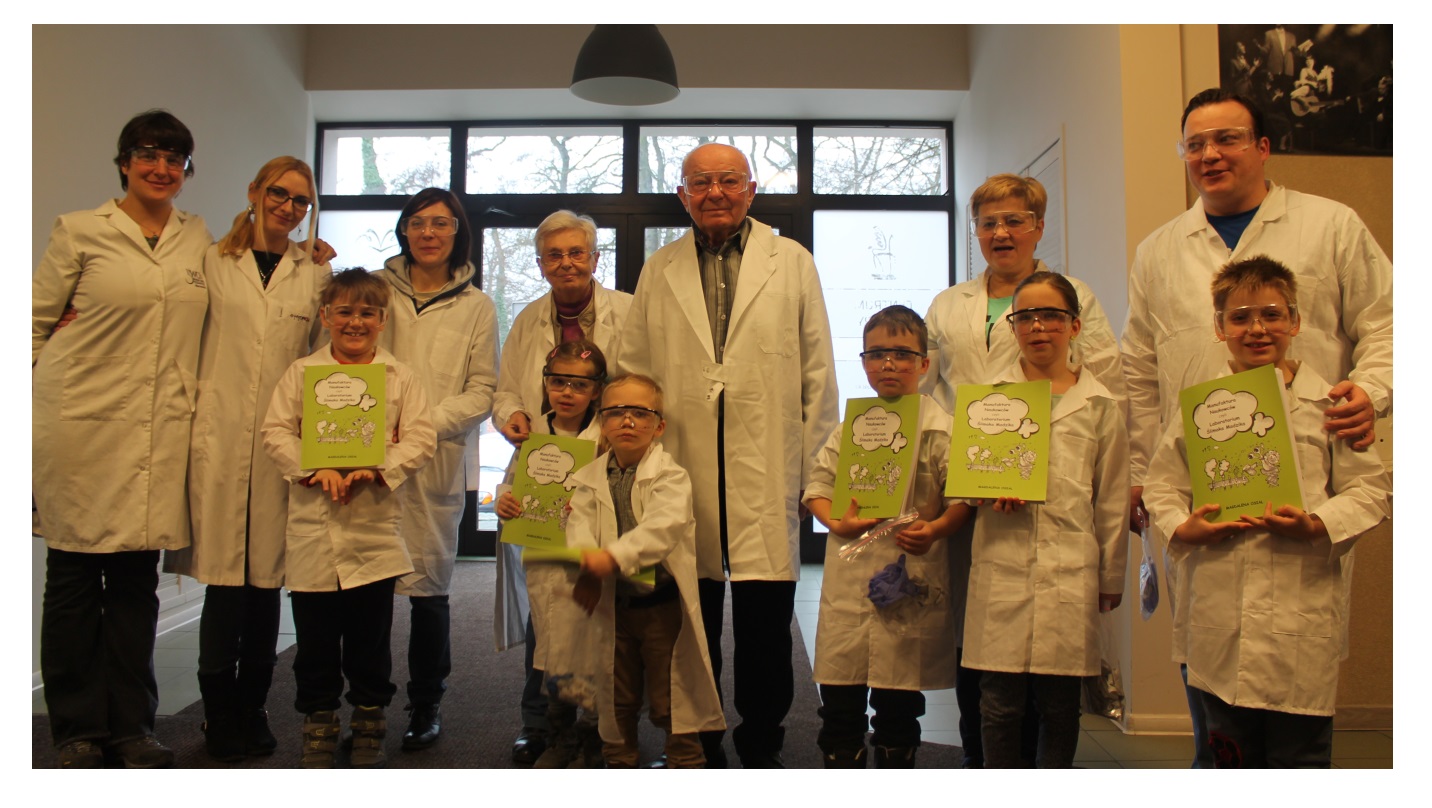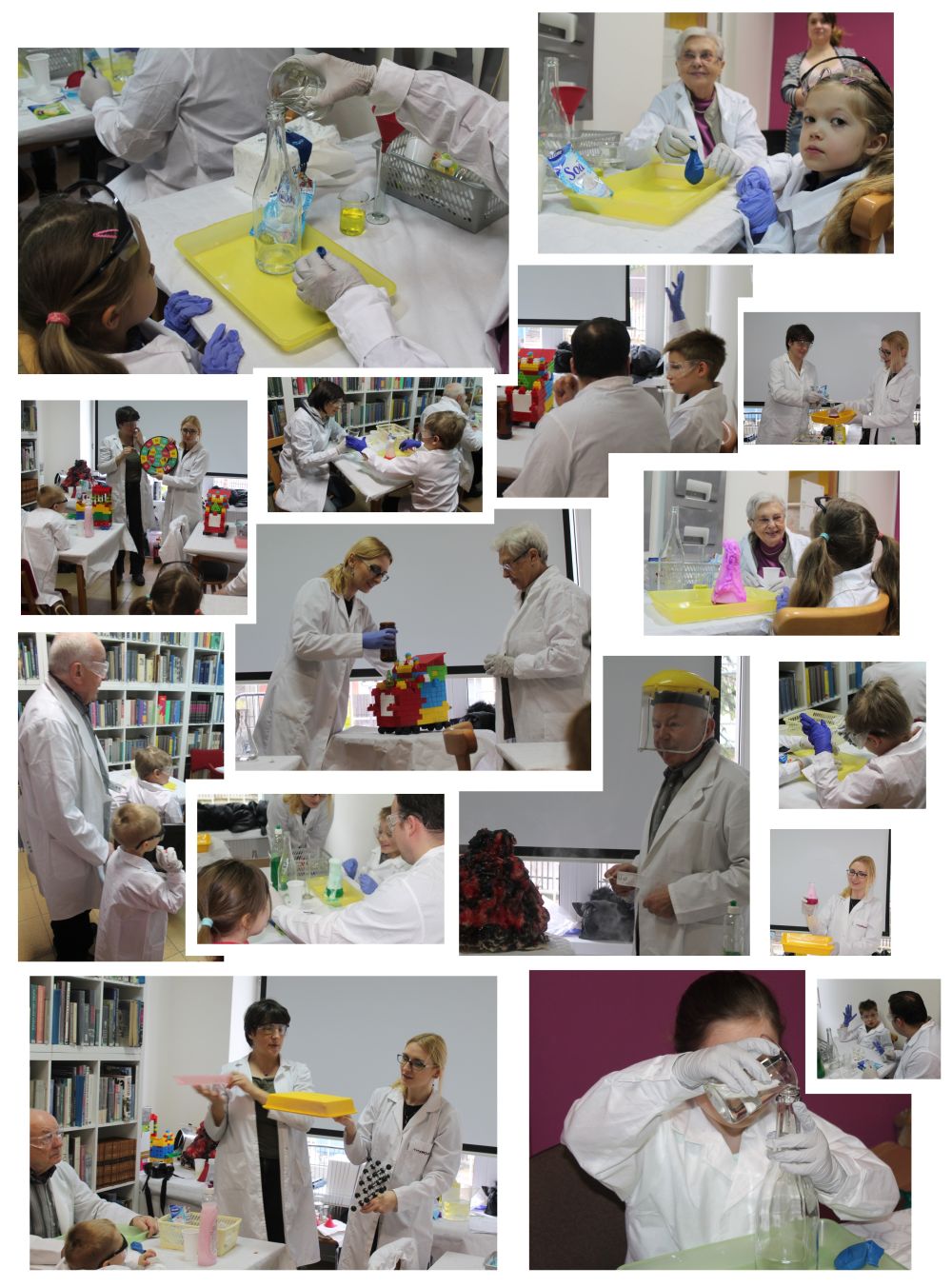 Kromołów, here we come again! Today we met with 5 groups! Each group was experimenting for 2 hours straight. Sounds crazy, right? We are tired, exhausted, but extremely happy that so many families were interested in our workshops! If some of them were waiting long hours, how could we finish earlier? It is Saturday and now, we can say that it was fruitful day. We hope that some of those brilliant kids will love science more and more, forever and ever!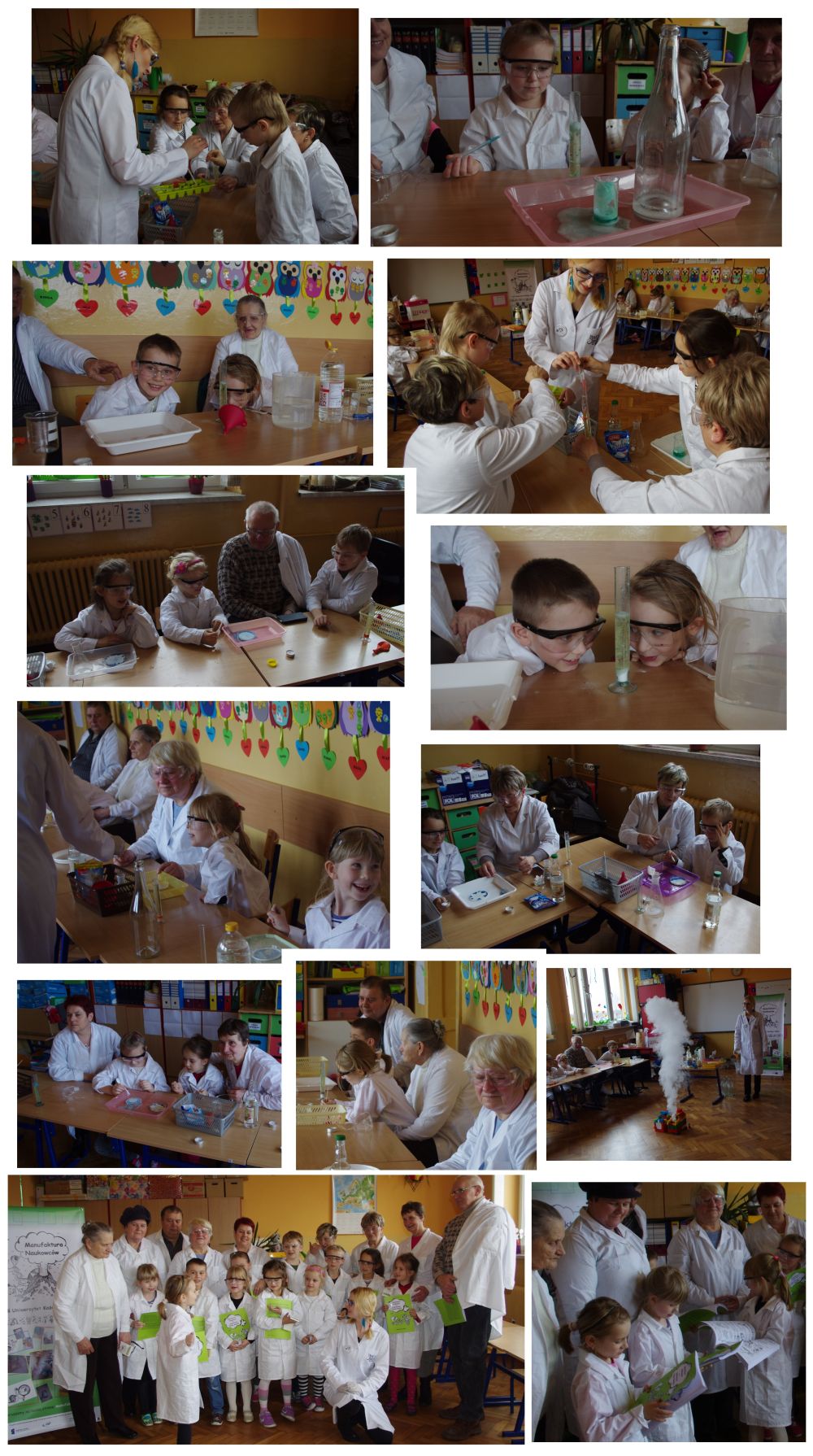 Here we are! Snaily Snail and his new friends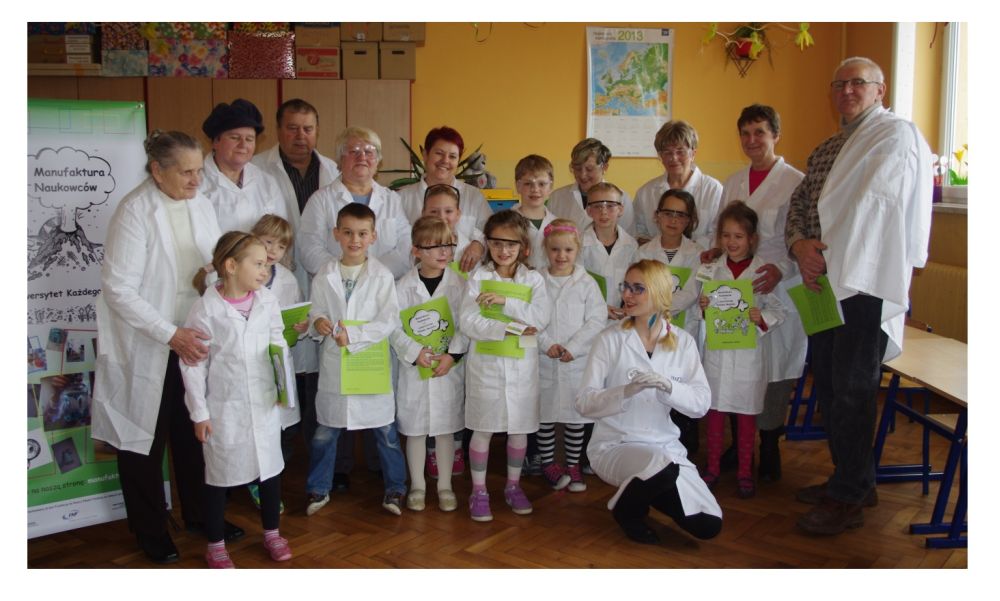 ...an another few experiments :)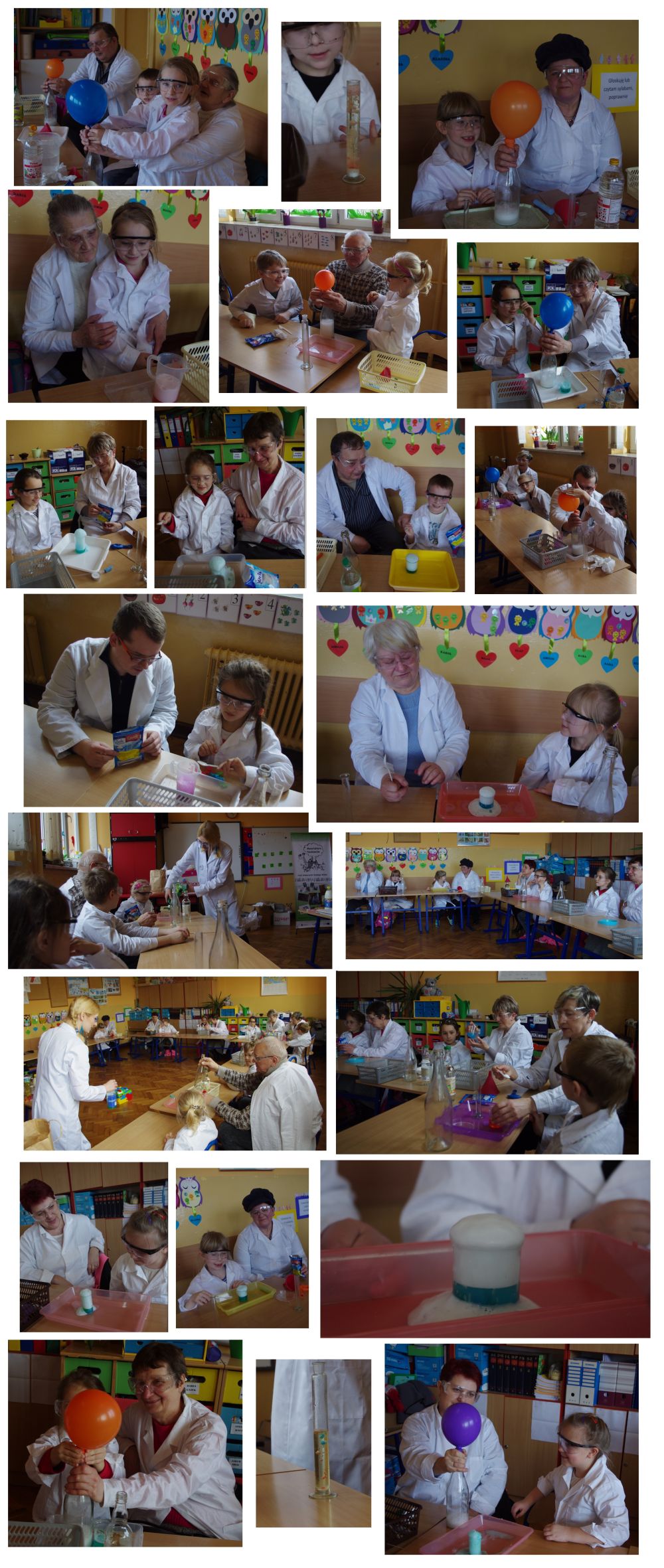 ...and after break)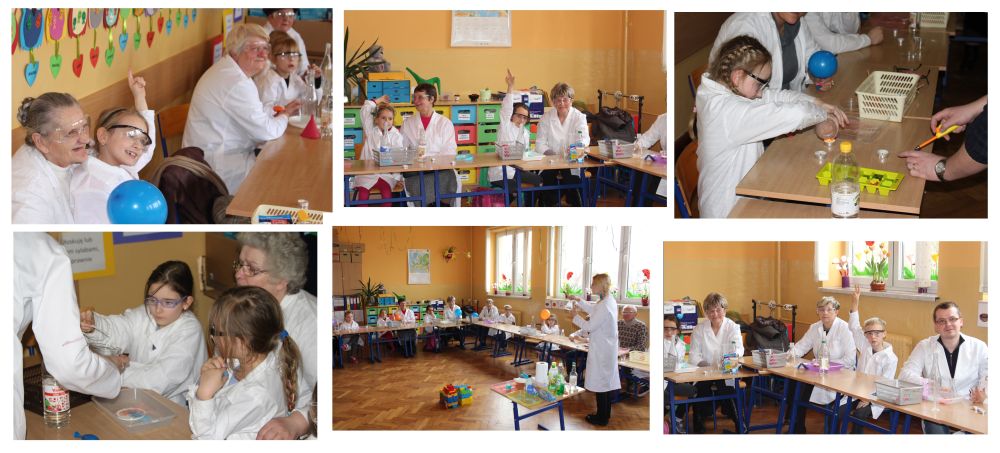 Today, Snaily-Snail's books found another owners. :)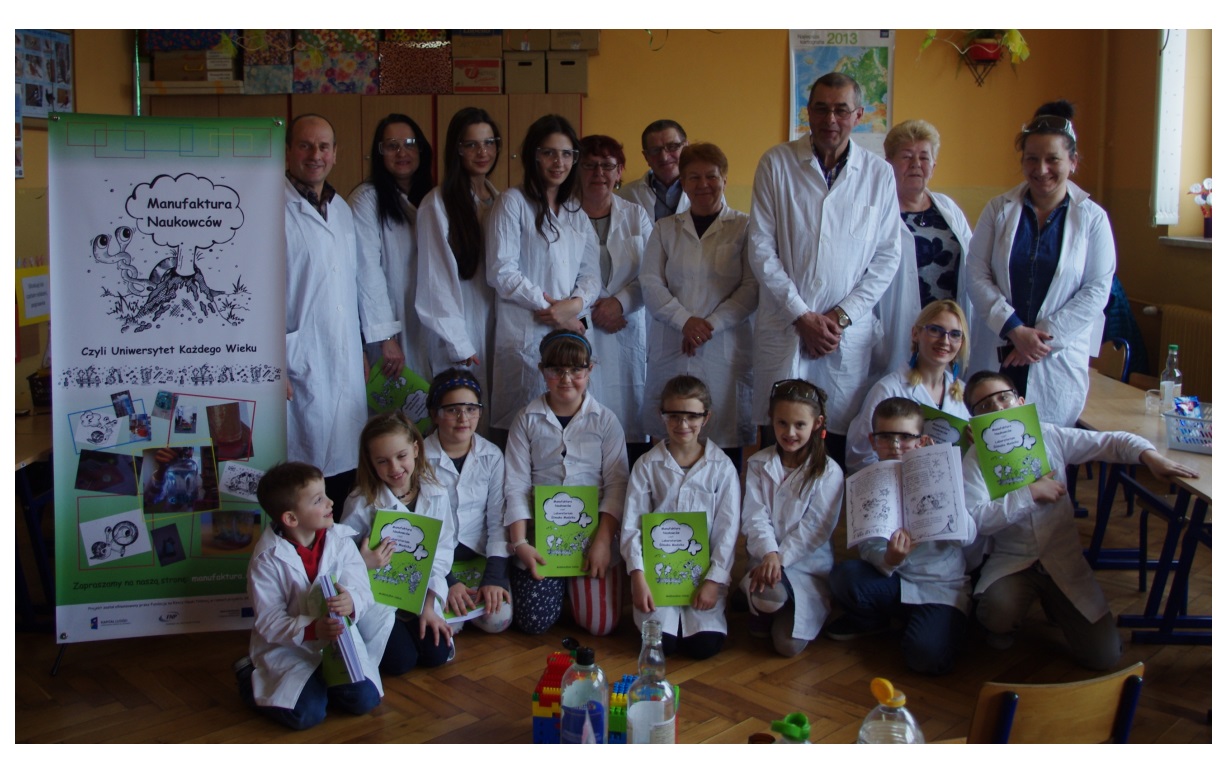 Chemistry, physics or maybe physical chemistry? :)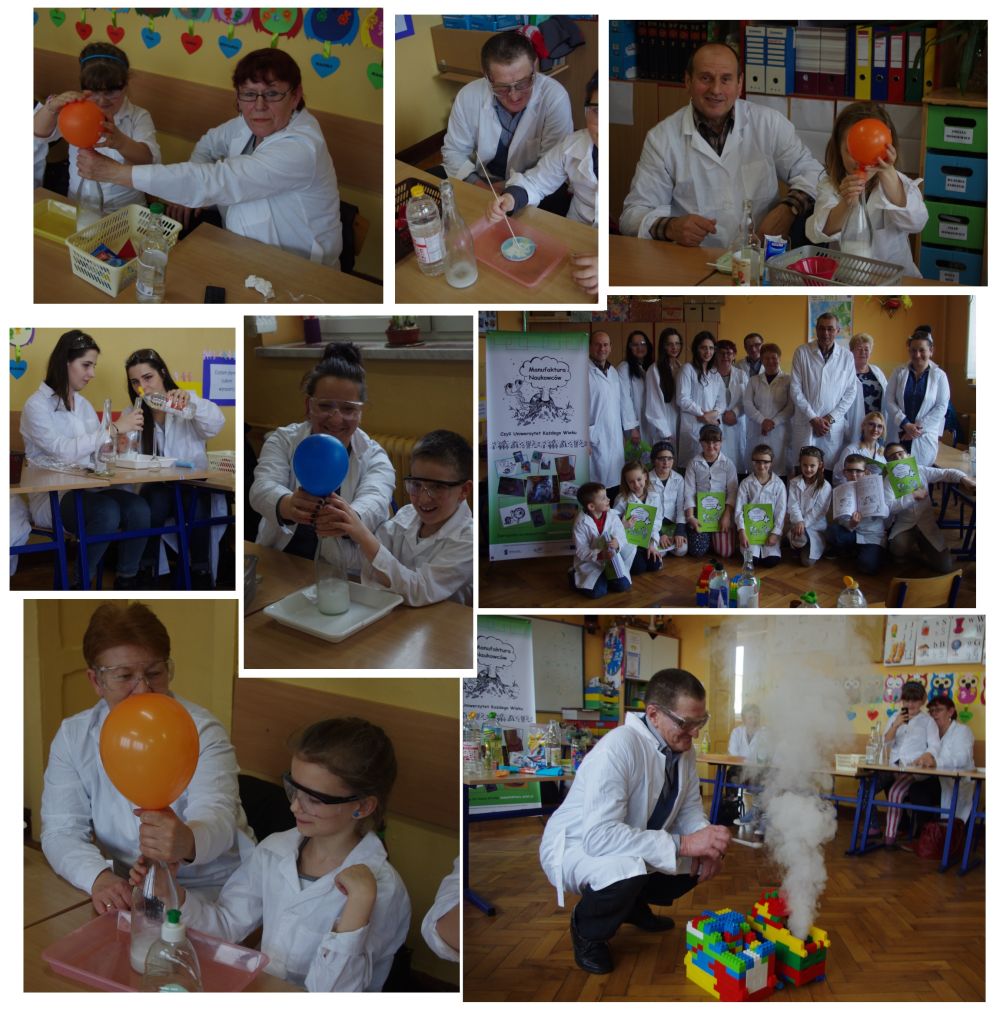 We hope that after today's workshop will cause the cascade of questions "Why? at homes :)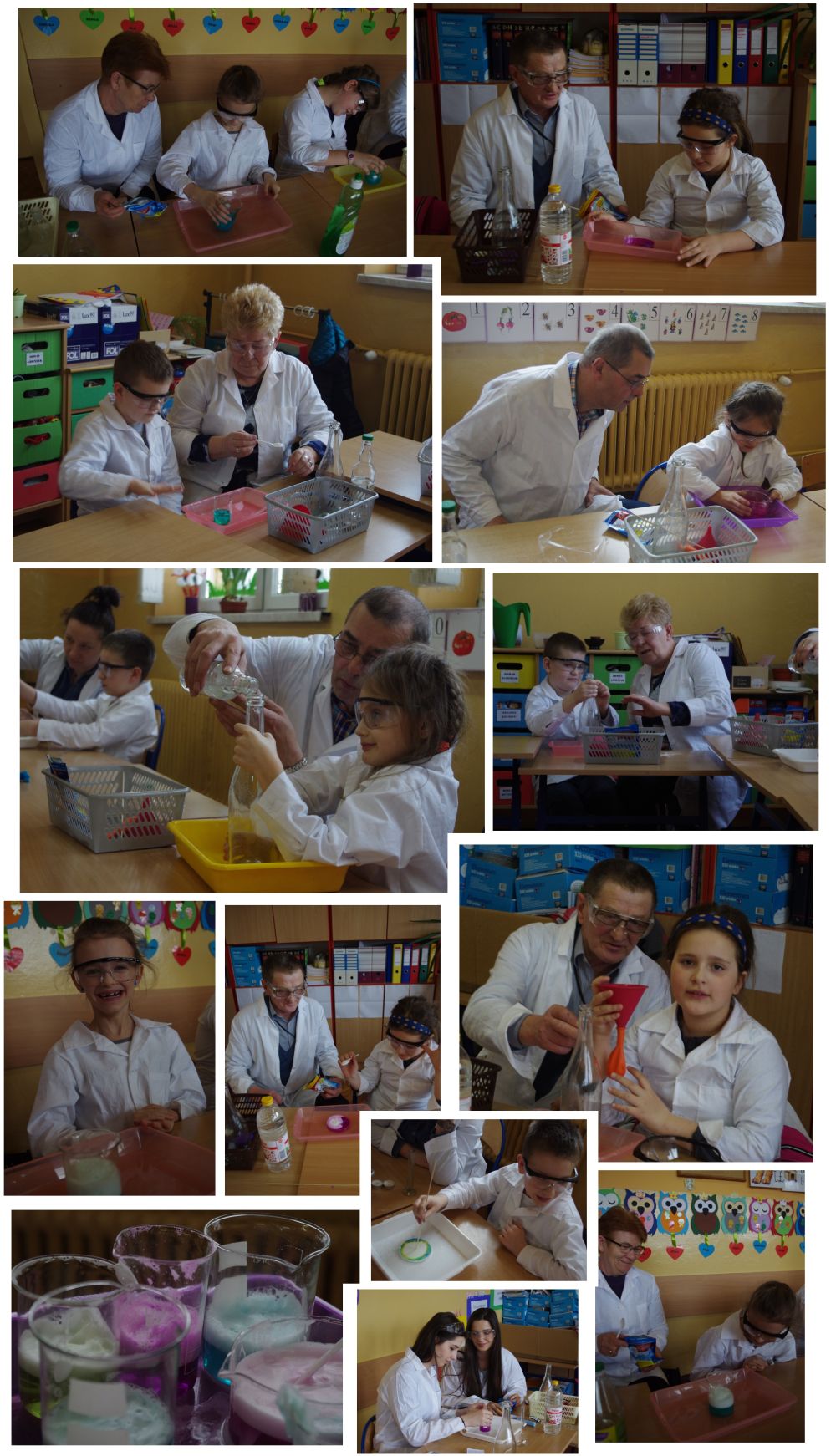 Ready for more pictures? Here we are! The group no. 3!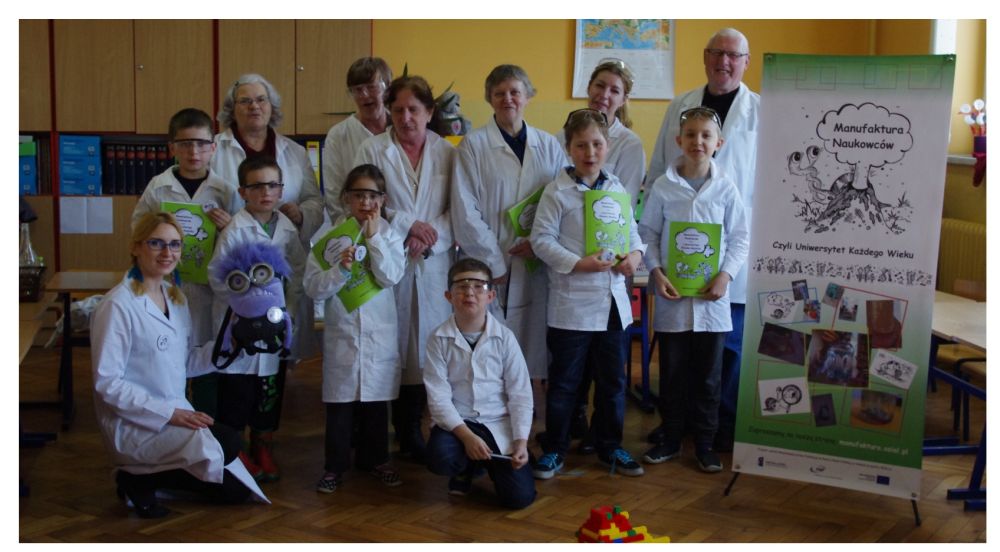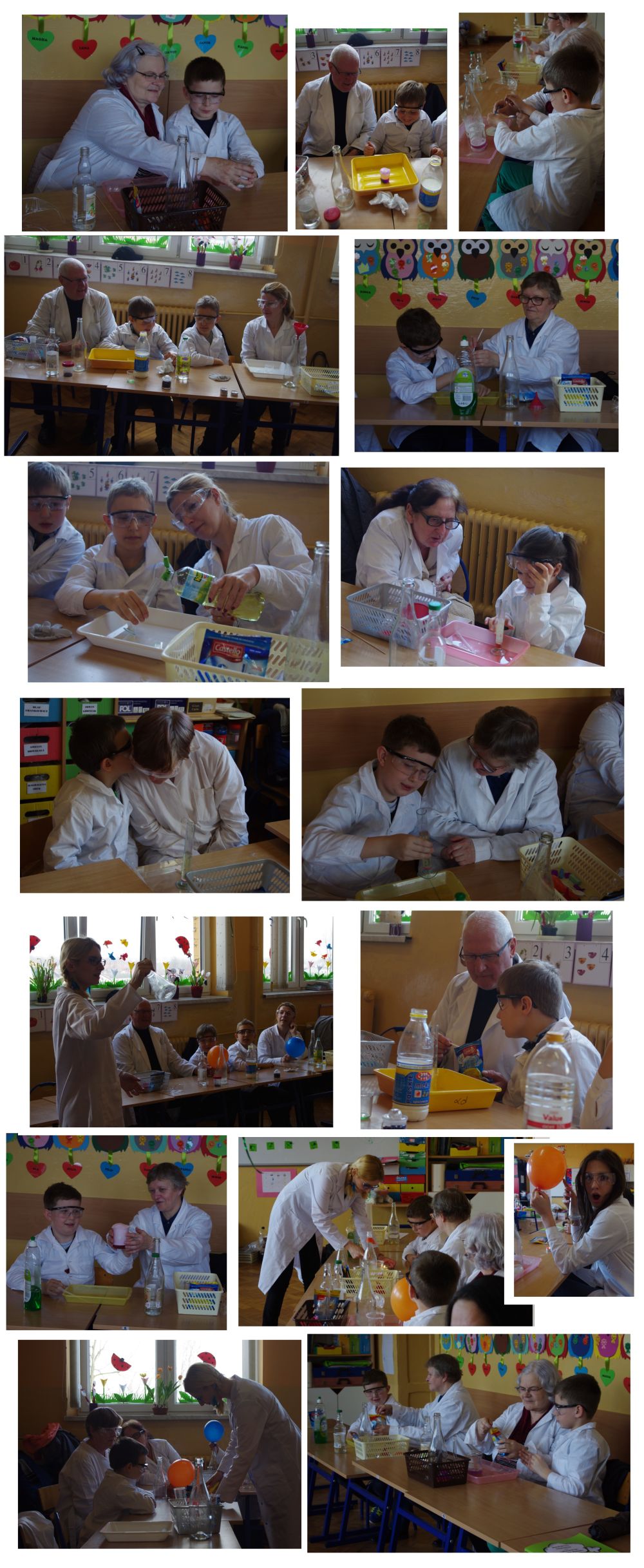 ...and after break!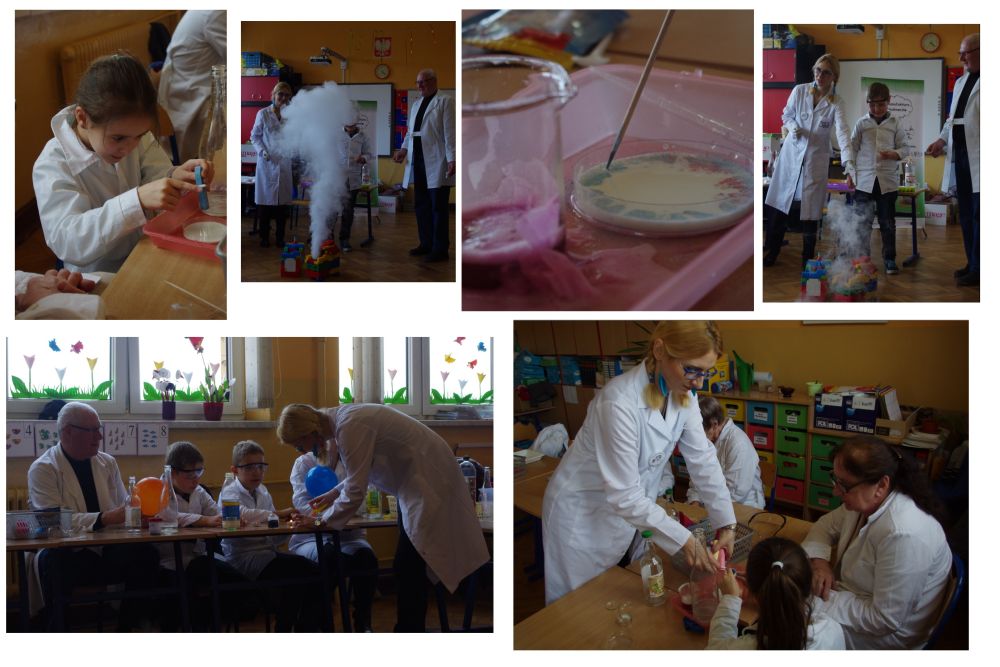 Group 4 in action!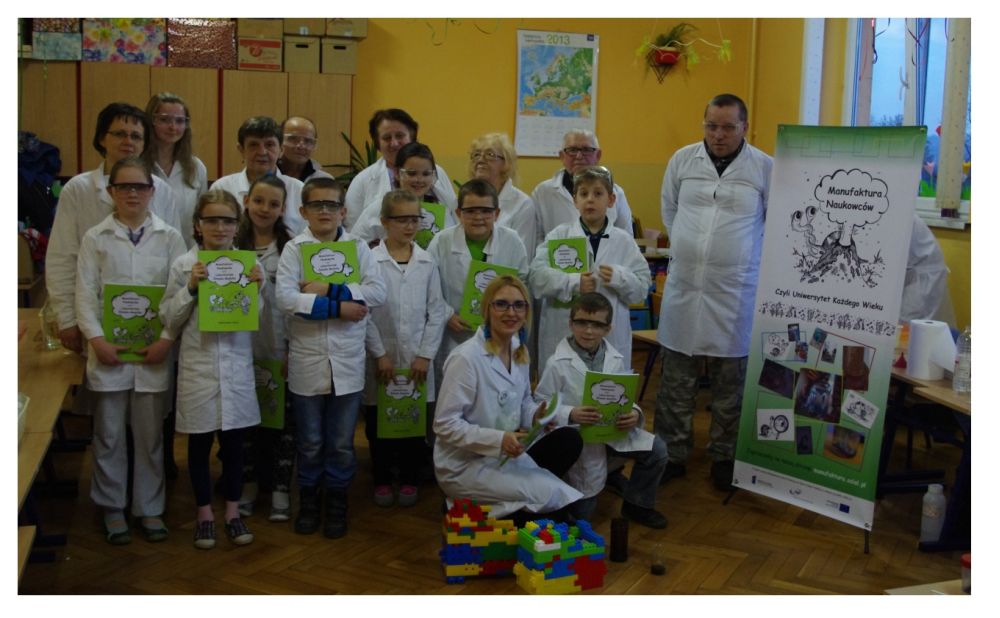 Colourful solutions were on the tables for the long hours. We created home-made fire extinguiseh, foam which did not require mixing and lava lamp.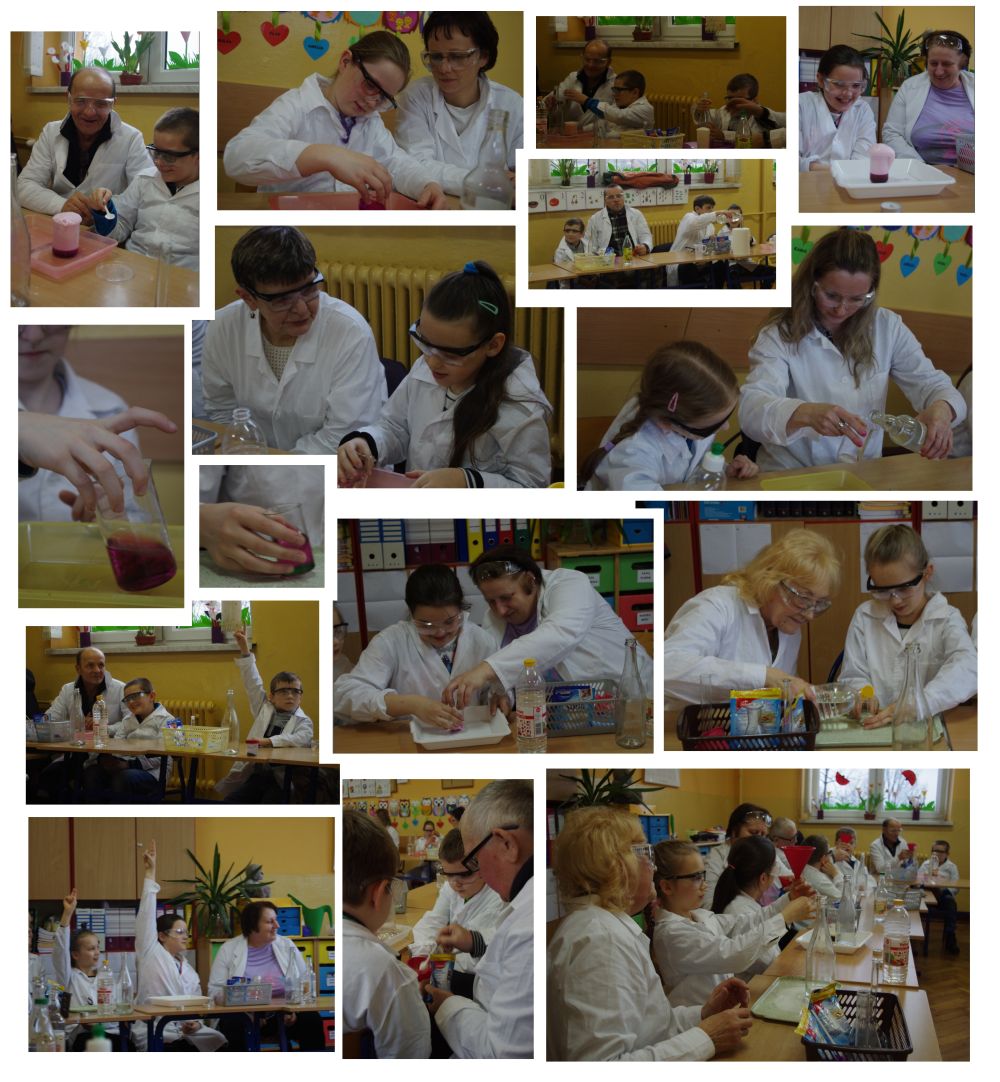 ...and after break :D
Morsko is the small town in the Jurrasic region of Poland. This time we had a chance to make experiments at house. All neighbourhood was engaged in this event. Thank you all for invitation and coming!
Next day of experiments in Kromołów - old town with 800 years history. Did you know that Kromołów exists from 1193? Moreover, Warta Spring is located just 300 m from the school where we organized classes.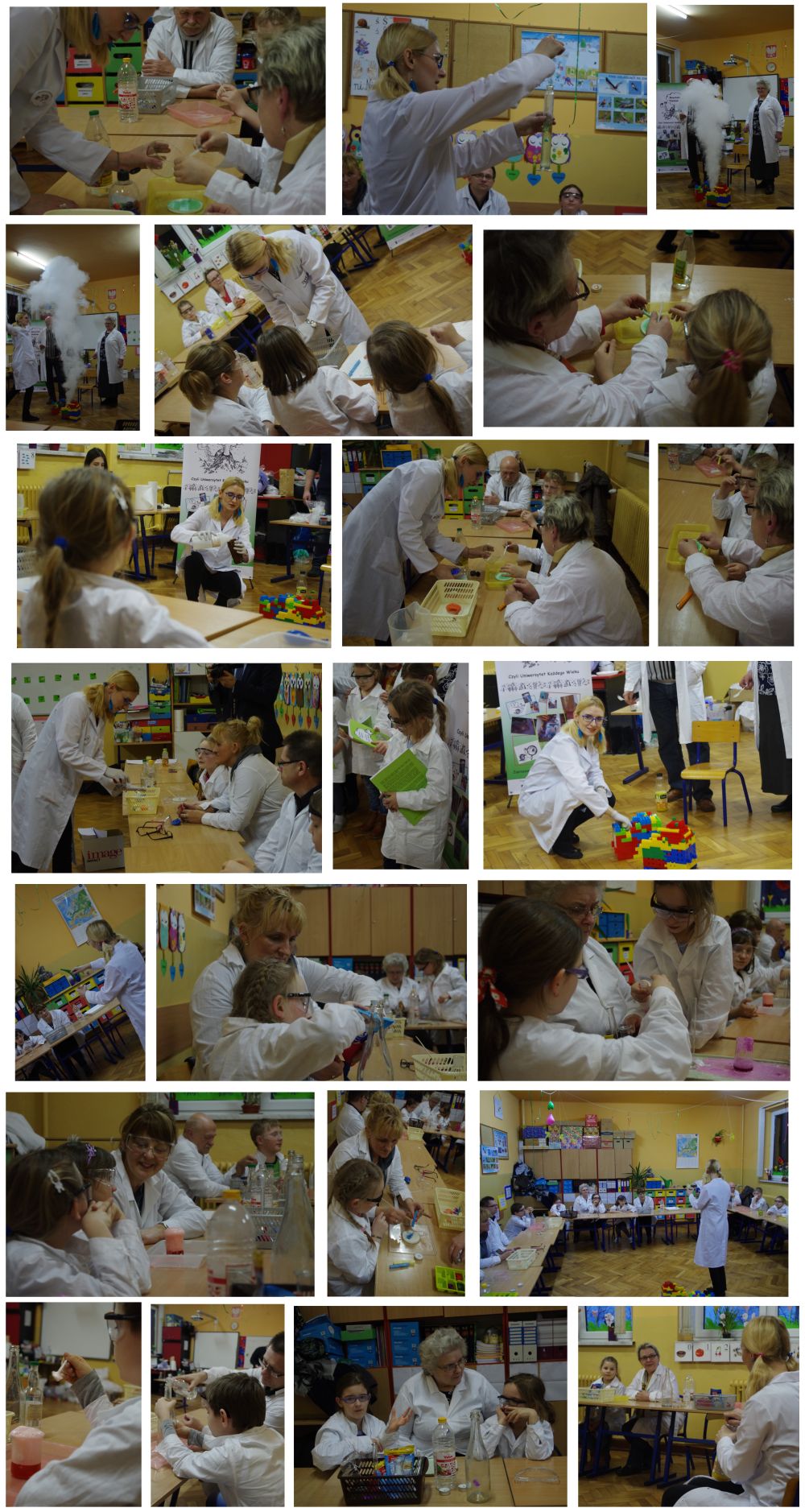 After 15 min break we were ready to experiment with the next group.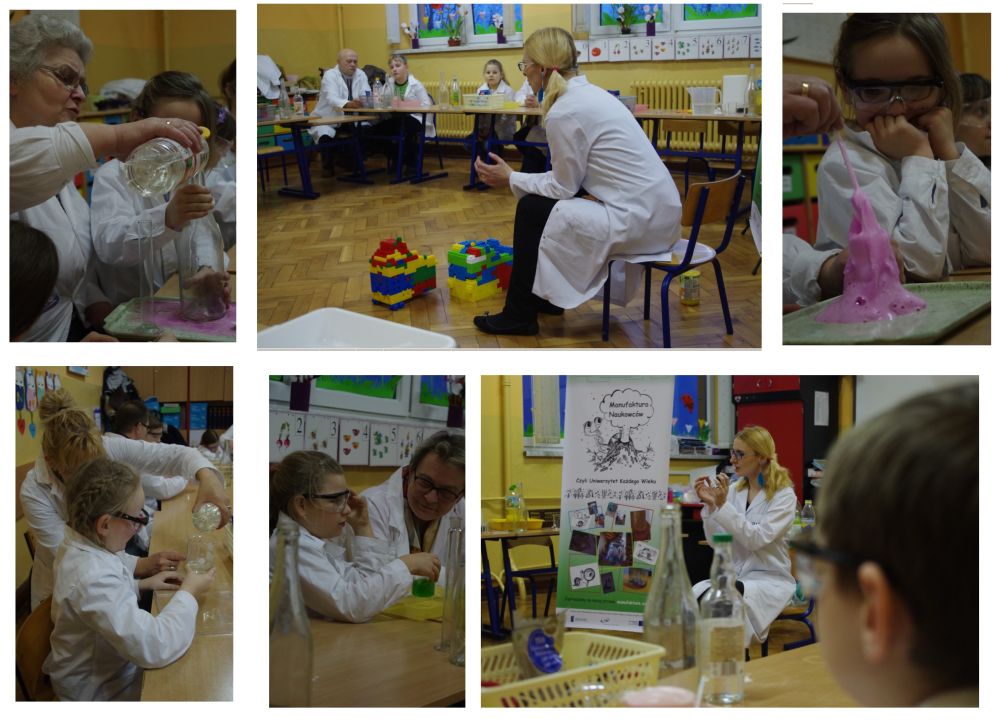 Classically we took the "family" picture with all participants of the workshop. It was very nice evening! After classes each participant received the book about science and experiments, and grandparents and parents received also some souvenirs :D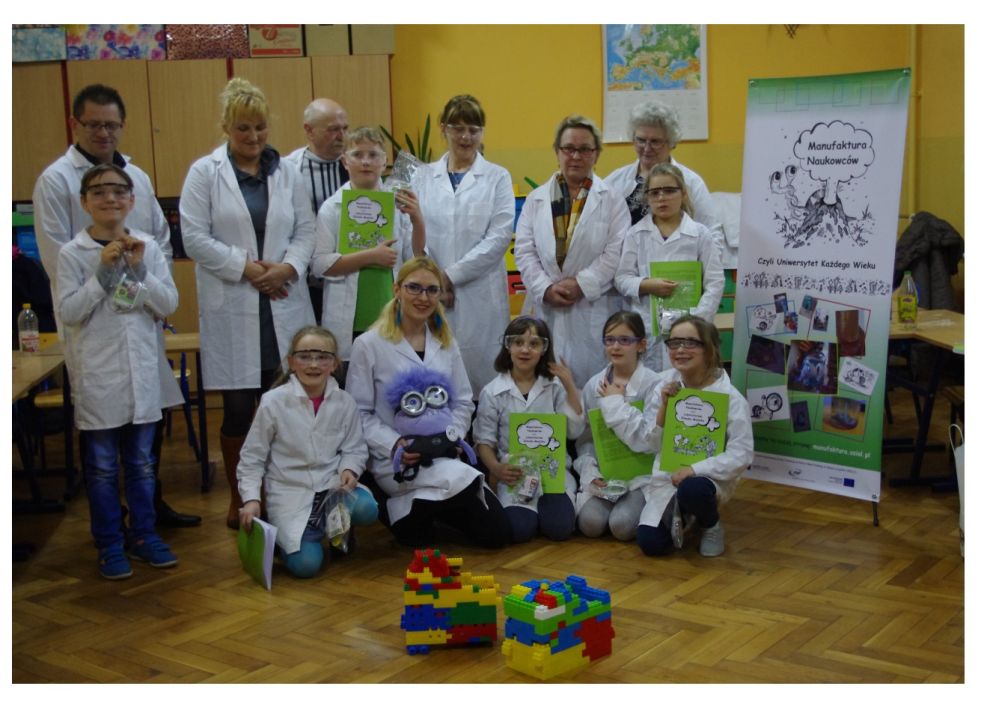 ...next portion of pictures from Zawiercie :)
Books! New books! Only today 140 books will find new owners in the Jurrasic region of Poland. Our workshops will last for 4 days and we are sure that it will be amazing time!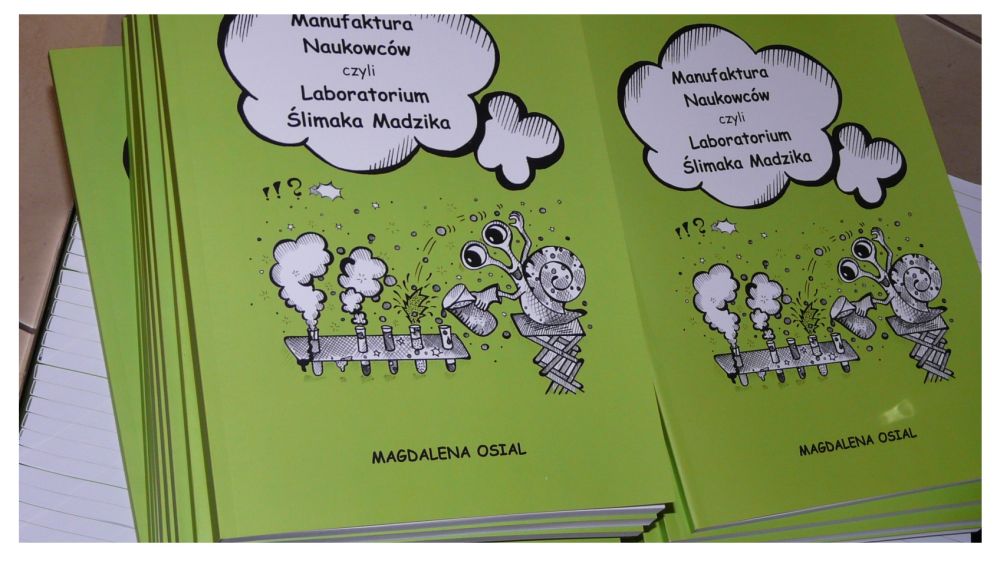 This time our experiments were taking place in Grodzisk Mazowiecki, where experiments were performed with use of toys. Why? Because science is everywhere. Even in the plastic building-blocks.
Todays workshop was our debut in library. Despite the vulcano experiments, no books were lost :D We love books, so we were experimenting with families carefully. Thank you for the invitation to the Library in Piaseczno!
We are happy to present you short photo-gallery from experiments performed in the Elementary and Secondary Schools in Zawiercie-Kromołów. The subject of experiments " Water Means Life" was focused on the fundamental role of water in nature. We were discussed about the interactions between molecules, atoms, electrons, and many others :)