If you want to know more about our workshops, go ahead and let's visit our facebook profile. You can find there more pictures and details about current events with Smarty-Snaily-Snail :)
Profile is here: Manufacture of Scientists
——————————————————————————————————————
July - August - research for high-school students

WARSAW - Faculty of Chemistry, University of Warsaw

Workshops are dedicated to high-school students, who want to see how research looks like. This summer project makes them possible to face with science and choose their career in future.

8th September - STOP to cancer

KOSZALIN - Fondation of Ronald McDonald

Foundation goes to Koszalin to organize free ultrasonography diagnostics of enfants. We go there to support them and convince parents to bring kids for diagnostics. In a meantime all family can attend our workshops and have fun.

September - Foundation of Ronald McDonald

Warsaw - Experiments with Marią Skłodowską-Curie

Kids will learn science and history of great mind, Maria Skłodowska-Curie. We are going to inspire them to become a scientists!

28th September - Eurpean Night of Science

OLSZTYN - Experiments with Marią Skłodowską-Curie

Kids will learn science and history of great mind, Maria Skłodowska-Curie. We are going to inspire them to become a scientists!

29th September - Science Festival

Experiments with Marią Skłodowską-Curie

WARSAW - Faculty of Chemistry, University of Warsaw

28th - 29th September - KIDS EURO FESTIVAL 2018

WASZYNGTON D.C., USA - KID MUSEUM

Workshop with Maria Skłodowska - Curie

Kids will learn science and history of great mind, Maria Skłodowska-Curie. We are going to inspire them to become a scientists! Moreover, we will show american kids the beauty of our culture and the representation of Poland.

...soon more information about other workshops eg. building of the model of atom and workshops only for girls :)
——————————————————————————————————————
We have a winner! More details at our profile on facebook !——————————————————————————————————————
Inside each of us is a kid, smaller or bigger, younger or older, but still curious and creative :) For that ocassion we make some small competition.

COMPETITION!

You can win the book of Smarty, the Snaily-Snail (book in Polish) How you can win it?

Sent to us an e-mail with an answer for those two questions:

"Why is it worth to become a scientist?" and

"Why is science amazing?"

Our e-mail address: manufaktura@osial.eu

The most interesting answer will be awarded.

we wait until midnight on 4th June 2018.
——————————————————————————————————————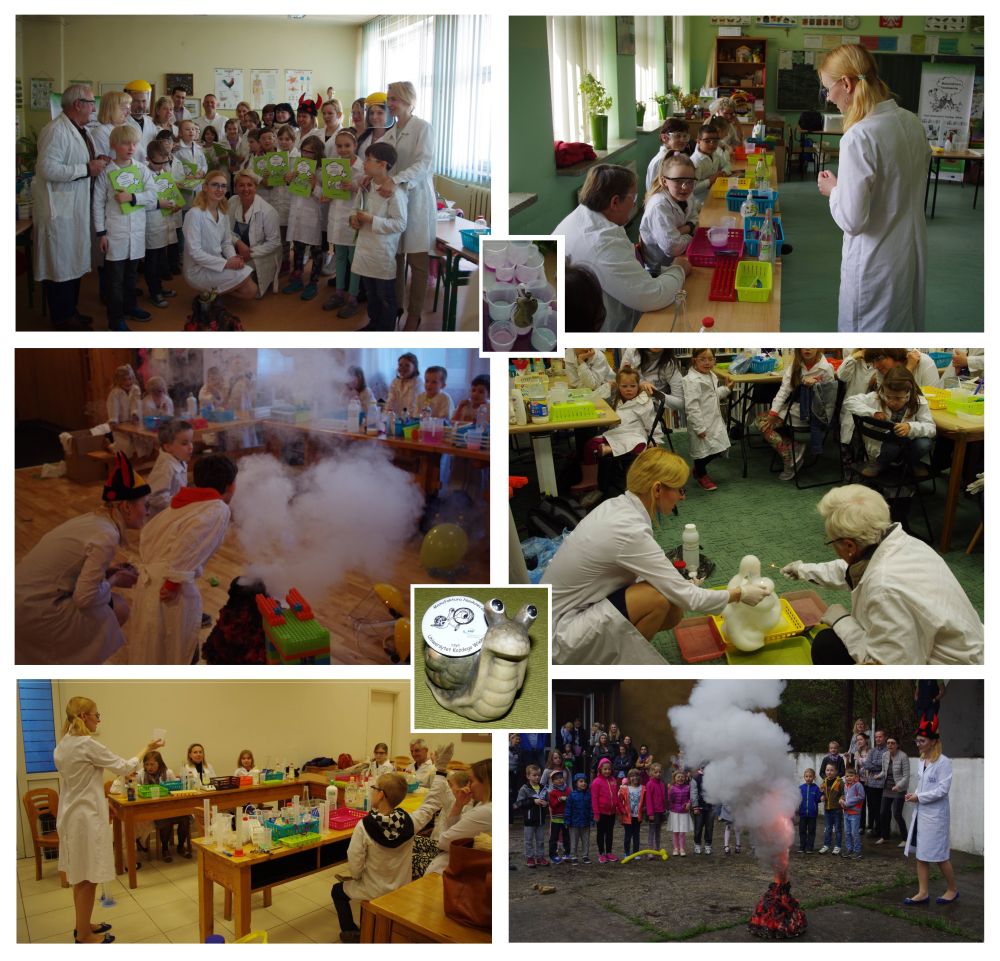 Manufacture of Scientists had 3nd anniversary in July :) For last 3 years we organized so many workshops and visited so many places that we lost track a long time ago :)
During just few, first months in our workshops participated more than a 1000 people. After 2 years this amount doubled :) Kids, pairs of kids and seniors or kids with parents were exploring science through simple hands-on experiments. Another few hundreds watched our chemical show or/and visited the Faculty of Chemistry at the University of Warsaw and had a chance to see laboratories and various equipment like microscopes and spectroscopes.
Our workshopws were organized in Warsaw, Białystok, Zawiercie, Wieluń, Bzów, Milanówek, Kromołów, Grodzisk Mazowiecki, Morsko, Wołomin, Ożarów Mazowiecki, Tarczyn, Piaseczno and many other places around the whole Poland and even in U.S..
Workshops took place in Elementary and Secondary Schools, Libraries, Kindergartens, Senior Clubs, Cultural Centers, Universities, Academic Career Centers, Orphanages and even in Rabilitation Points and Fire Stations. The smallest space for our class had 10 square meters with the largest classes organized in larger locations or on these outside.
We also visited many kids and their families in their own houses. If they could not visit us, we went to them - simple! In that way we were experimenting in living rooms, kitchen or in the backyards. Timing? Sometimes in the morning, sometimes late evening hours. Because we are night owls, experimenting by evening was even more exciting, so...from time to time we had "Scientific Nights"
Previous year was very fruitful and we hope that many participant will fall in love with science. Who knows...maybe one day they will become scientists?